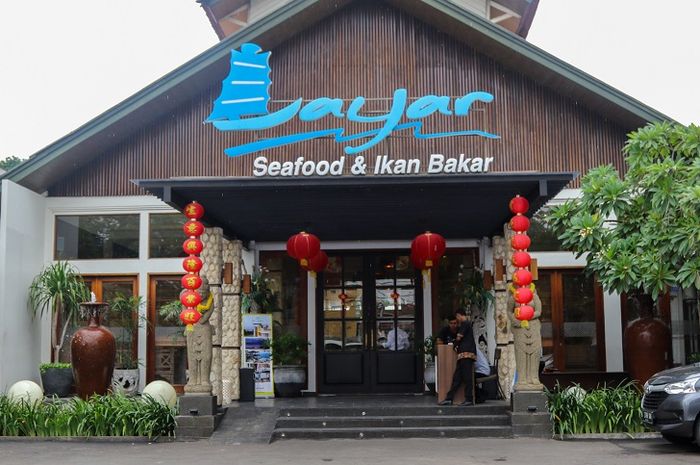 Located in Meruya, Layar Seafood 99 serves the tank-to-table seafood dining experience.
Layar Seafood 99 brings fresh seafood to your table no matter how far you are from the ocean.
Kitchenesia.com - As we are in a far better condition than in the last two years, dining out is finally back on track. There is no better time than now to venture out to some restaurants in the J-Town. And most importantly, to experience firsthand why they outwon the pandemic.
We catch ourselves stopping by a restaurant in Meruya area, West Jakarta, between late lunch and early dinner. It is Layar Seafood 99, which, at first glance, seems like a typical family-style restaurant whose food does not come cheap.
There is something in the façade that draws me in: elegant and inviting. Couples of pillars and statues of deities provide a grand entrance, but the overall exterior speaks to homey, modern architecture.
Besides, the absolute-packed parking lot, even after lunch, gives me a positive impression. At least for now.
Read also: Chef Chandra Yudasswara and Chef Raymond Rjaily Show up Their Culinary Skills Using Aussie Beef at MO Jakarta
An anomaly among its kind
Layar Seafood 99 consists of two parts: indoor and semi-outdoor. Both are parted by a partition door that is separate enough for each part to have its own atmosphere.
Funnily enough, I can feel an anomaly when entering the restaurant. Most restaurants provide outdoor seating on the front porch, near the main entrance. However, Layar Seafood 99, being a kind of its own, has a fully air-conditioned indoor right after the front door, while the semi-outdoor area is in the back.
Although Layar Seafood 99 is almost landlocked (the restaurant is near Pesanggrahan river), guests can feel the seaside dining experience thanks to its nautical concept. Here, a coastal vibe is alive with a pale cream palette dominating the room – reminiscing the color of beach sand.
Layar Seafood 99 provides indoor and semi-outdoor areas whose ambiances are pretty contrasting.
There is plenty of space in the indoor area. Even if divided into fourths, each part still makes a spacious room for a family restaurant. Another highlight is the large windows which bring in the natural light. Thus, it gives the illusion of an even more spacious area.
Tags