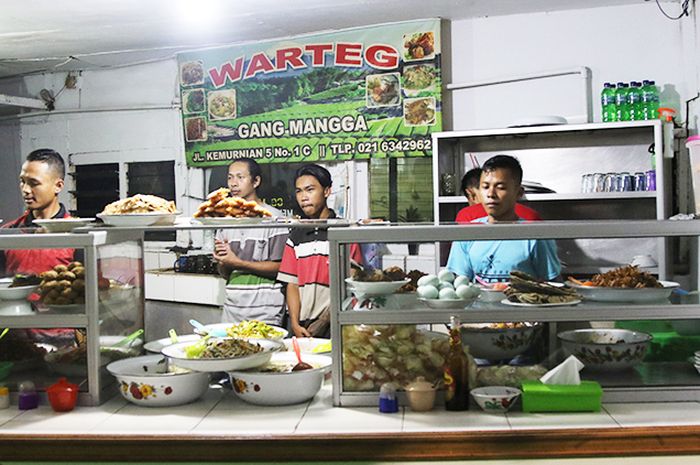 Warteg Gang Mangga serves more complete package than common warteg out there.
The Foods That Make People Loyal
As the name implies, Warteg Gang Mangga draws upon the cooking of Javanese foods. Typical foods that are on offer are humble and easy to cook, namely ayam goreng (fried chicken), tempe orek (tempeh with sweet soy sauce), telur balado (fried eggs in a spicy sauce), sayur kangkung (sauteed water spinach) and many others.
Just when I thought things were normal, I saw some non-typical warteg foods were also served here. The likes of semur jengkol (dogfruit stew) and gulai tunjang (beef tendon curry stew) are not from Java; both are from Betawi and Padang foods respectively. Seriously, I could scarcely fathom Warung Gang Mangga's concept.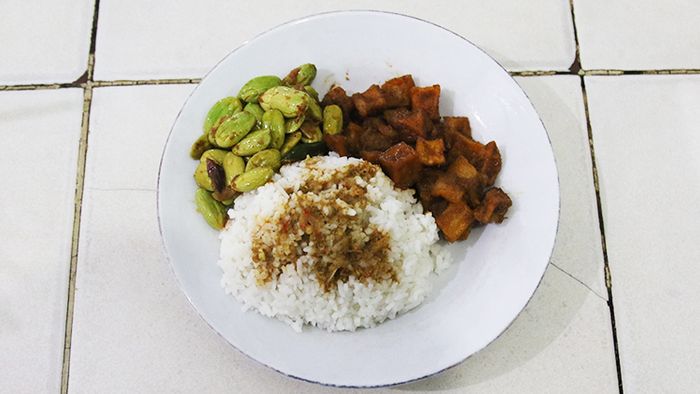 In Warteg Gang Mangga, stinky bean is revered. Any dishes utilizing stinky bean are always put in the strategic place in the glass shelf.
Read Also: Chandra Yudasswara On Being Celebrity Chef and A-List Restaurateur: 'Never Forget My Roots'
I chose petai pedas (spicy stinky bean) and sambal goreng kentang (fried potato chili) for my vegan plate. There's the crunch and then the blast of stinky bean's gassy taste across the satisfying bitterness. The fried potato chili is a mixture of soft texture and spicy flavor. You can try to slip both in one go. But it's far better to eat them separately to avoid biting spiciness.
There's a long list of meaty side dishes, and we collected the top two. First is the big piece of ayam goreng (fried chicken). It holds an incredibly moist glaze with soft fillet. The meat is so dry that once you press it down with a thumb, no excess oil leak from the meat.
In truth, the flavor for one dish can be varied according to the stock you choose. These squid and shrimp dishes were actually fried. I didn't want to miss the fun by having them dry. Thus, I combined them with a spicy stock. Was I regretting it?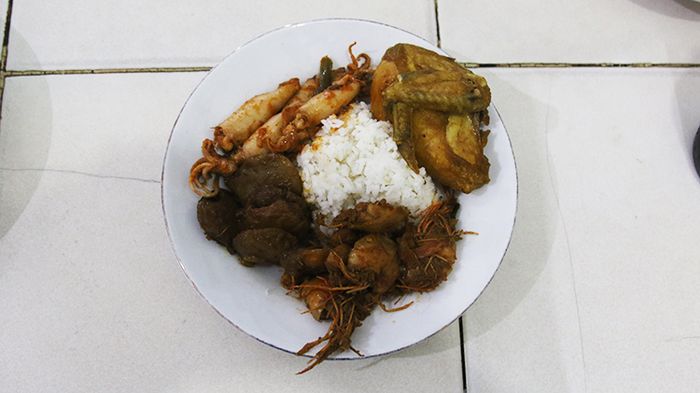 Warteg Gang Mangga's top 4 side dishes: fried chicken, spicy fried shrimp, dogfruit stew, and spicy squid (clockwise from right to left).
Read Also: A Glimpse into "Mlinjo" Café and Resto, Preserving Local Cuisine Hidden Gems of Pekalongan with Retro Flair
Well, the specialty is not so much in the sauce, which is basically a salted chili oil only. It lies in the thick shrimp meats that were properly deep-fried until crunchy. When eaten, people in the next three tables could hear the crumbling sound. On my next revisit, I will make sure I eat everything dry. No stock, sauce, or any kind of liquid condiment whatsoever.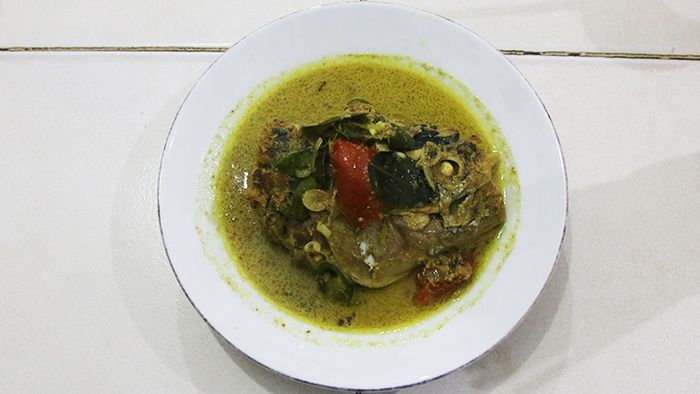 Ikan kakap kuah kuning (red snapper in a yellow stock) by Warteg Gang Mangga is less bold than the original version.
I expected ikan kakap kuah kuning (red snapper in a yellow stock) had some kind of new twist. And yes, it feels slightly different from the Padang restaurant version. Warteg Gang Mangga's ikan kakap kuah kuning is less bold and thick than the authentic version. It tastes okay; but as someone who is familiar with Padang cuisine, this dish is sort of lackluster.
On a full stomach, I left knowing the very good reason why people keep going back here. Lots of food options mean lots of people are well-catered. For those who are away from home, eating homecooked foods like these can ease a small feeling of homesickness.
It's a pretty satisfying thought.
Warteg Gang Mangga, Jalan Kemurnian V No.1C, Glodok, West Jakarta 11120