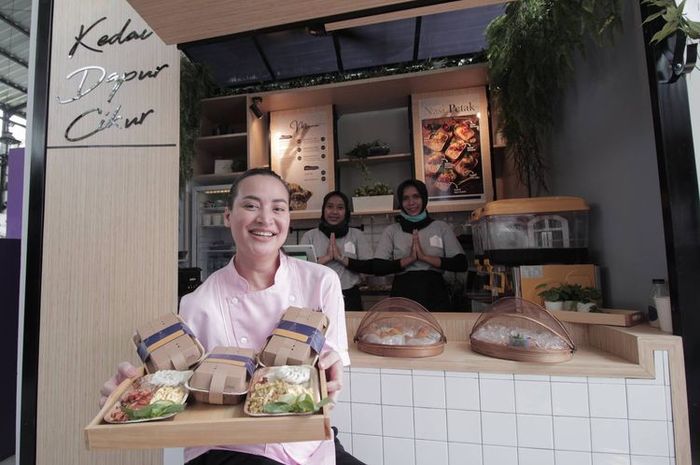 Vanty Veronika believes Dapur Cikur has potential to succeed.
MasterChef Indonesia Finalist Opens New Food Stall Despite Pandemic, Boosting Eco-Friendly Packaging
Kitchenesia.com - Across the world, restaurants are closing their doors. Some of them halt their business as the economy slumps and entrepreneurs fail to survive under COVID-19 protocols.
While the pandemic woes, Vanty Vernonica refused to surrender and continue to work her plan out. On Sunday (8/16), the Jakarta-based entrepreneur announced the first offline food stall of Dapur Cikur.
Located at Point 11 Food Court in the downtown Pondok Indah, Vanty believes Dapur Cikur has potential to succeed.
"I think Indonesian cuisine will never lose its enthusiasts," said the 41-year-old entrepreneur in an exclusive interview with Kitchenesia.
Read Also: Laksa Betawi Asirot, Authentic and Unpretentious Taste of Jakarta's Rarest Dish
Dapur Cikur was initially an online catering business. Its expansion plan began in 2019. Vanty claimed that her plan has yet to complete.
"I was planning to run a restaurant and pastry shop. But given the current circumstance, I don't think it is wise to set them up now," said the finalist of 2019's MasterChef Indonesia.
Dapur Cikur opens throughout the day, from early morning to almost midnight, offering homemade Sundanese foods with locally-sourced ingredients.
Among favorite foods are Sepetak Lidah Hejo, Sepetak Dori Presmol, Sepetak Ayam Seuhah, Sepetak Cumi Jeruk, etc.
Eco-Friendly Packaging
Many of us are fed up with the phrase "reduce, reuse, recycle" that is always imposed on the customers. Finally, Dapur Cikur is one of few businesses that reflect these same values by boosting biodegradable packaging.
Thus, every Dapur Cikur's food name begins with the word sepetak, referring to its eco-friendly packaging.
"Food industry produces the most waste, with fourteen percent of them are plastics," said Vanty.
Read Also: Chandra Yudasswara On Being Celebrity Chef and A-List Restaurateur: 'Never Forget My Roots'
Collaborating with local food packaging company plepah¸ the food packaging uses areca nut tree as the main material. Dapur Cikur also uses cassava-based plastic bag that is believed to decompose within six years.
"We hope that Dapur Cikur can inspire other F&B SMEs to be more eco-conscious," said Vanty Veronica.
Dapur Cikur, Point 11 Jalan Metro Pondok Indah Blok TC No.11