Learn how to make Ayam Tumis Tomat Hijau (sautéed chicken with green tomato) for family's dinner with this step-by-step recipe!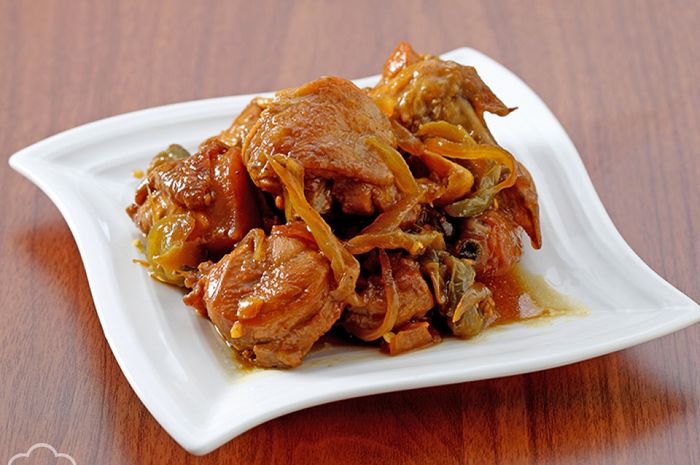 Ayam Tumis Tomat Hijau
Kitchenesia.com - "Chicken is boring," says no one ever. Whip up chicken with anything in fridge and you will get a restaurant-worthy dish you'd be proud to serve to the loved ones. Ayam Tumis Tomat Hijau (sautéed chicken with green tomato) is Kitchenesia's creation that shows how a plain chicken can taste magical.
The best part of it is its preparation time, which is ready on table in 20 minutes or less. This speedy dish will leave anyone in the family satisfied.
Prep time: 45 Menit
Yields: for 10 persons
Ingredients
1 chicken, cut into 20 pieces
1 kaffir lime, juiced
1/2 of buah onion, sliced
3 garlic cloves, ground
2 cm piece of ginger, ground
2 green tomatoes, diced
3 tsp sweet soy sauce
2 tsp Worcestershire sauce
1/2 tsp salt
1/4 tsp sugar
150 ml water
2 tbsp cooking oil to sauté
500 ml cooking oil to deep fry
Cooking Steps
1. Season chicken with a mixture of kaffir lime juice and 1 tsp of salt. Let them absorb for 15 minutes. While waiting for chicken, prepare a wok and heat oil on it over medium fire. When simmers, place chicken to the wok one by one. Deep fry chicken and stir occasionally in between. Cook them until brown and transfer to colander to drain from excess oil. Set aside.
2. Heat oil in pan over medium fire. Add onion, garlic, and ginger until fragrant. Add green tomatoes and stir until wilted.
3. Add fried chicken, stir well. Add sweet soy sauce, Worcestershire sauce, salt, and sugar. Stir well until blended.
4. Pour water, and stir constantly. Remove from pan once chickens are well-combined with seasoning.
5. Serve Ayam Tumis Tomat Hijau (sautéed chicken with green tomato) alongside steamed rice as an iftar or sohoor dish.
Tags
PROMOTED CONTENT
Tags