Learn to make nutritious and tasty Sautéed Spinach with Sesame Aroma at home with this step-by-step recipe!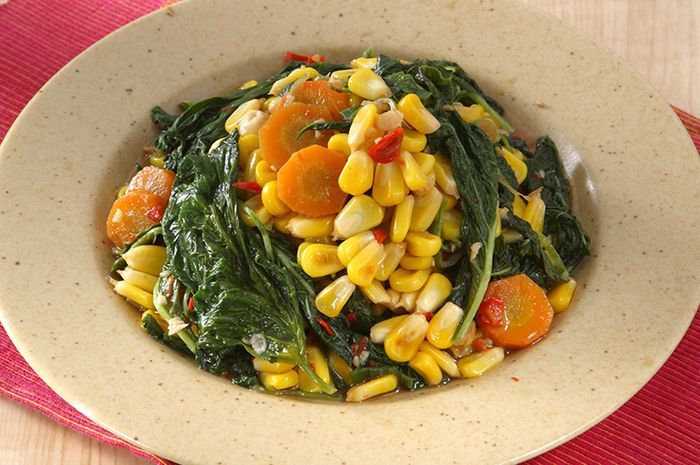 Cah Bayam Aroma Wijen (sautéed spinach with sesame aroma) makes a healthy lunch in less than 2 minutes!
Kitchenesia.com - No food can beats off this food: easy, tasty, and nutritious - especially the last part. Combining three superfoods - spinach, corn, and carrots - sautéed spinach with sesame aroma is warming bowl of goodness, containing variants of vitamins, protein, and carbohydrate.
This dish is also a favorite with the kiddos for it is colorful and flavorful! Follow the recipe below to make your own at home.
Duration: 20 minutes
Yields: 4 servings
Ingredients
2 bunch of spinach, plucked
1 carrot, chopped
1 sweet corn, cut off the cob and peeled
3 garlic cloves, minced
4 curly red chilli, chopped
1 tablespoon oyster sauce
1/2 teaspoon fish sauce
1/4 teaspoon salt
50 ml water
1 leek, chopped
1/2 teaspoon sesame seeds
2 tablespoons vegetable oil
Cooking Steps
1. Heat vegetable oil in a pan over medium flame. When the oil simmers, add garlic and red chilli. Stir well until combined.
2. Add corn kennel and carrot to the pan, stir until withered. Add spinach and stir constantly until combined.
3. Add oyster sauce, fish sauce, salt, and water. Stir constantly using spatula to combine and heat through all ingredients.
4. Add sesame seeds and leek to the pan. Stir for 1 minute before removing from heat.
5. Serve Sautéed Spinach with Sesame Aroma alongside steamed rice.
PROMOTED CONTENT
Tags