Want to light your family's mood in an instant? Try this Arem-arem Fried Sambal Krecek!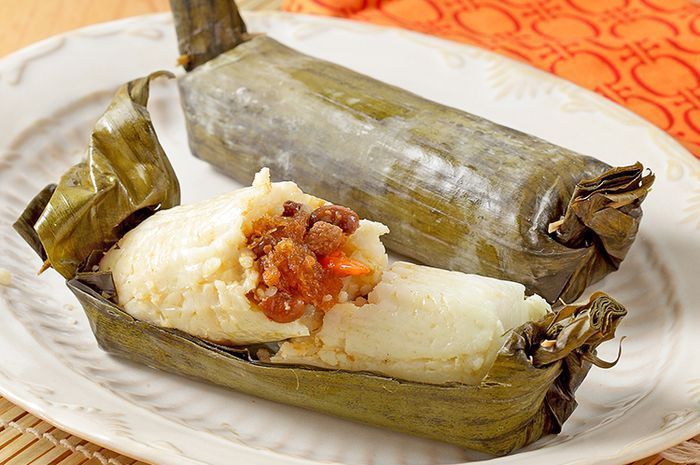 This light menu of Arem-arem Sambal Goreng will light your day in an instant
Kitchenesia.com - If you want to make variations on the breakfast menu, you can try making this Arem-arem Fried Sambal Krecek which will surely make you feel excited to start your activities in the morning.
The spicy taste will suit your taste and it is very appropriate for a family favorite breakfast.
Duration : 60 minutes
Yields : 10 pieces
Ingredients
300 grams of rice
900 ml coconut milk from 1/2 coconut
1 bay leaf
1 lemongrass stick, crushed
1 teaspoon of salt
10 red cayenne pepper, whole
10 banana leaves
Material contents:
200 grams of beef brisket, cut into small pieces
50 grams of tolo beans, soaked for 2 hours, boiled until tender
50 grams of crackers
2 bay leaves
1 lemongrass stick, crushed
2 cm galangal, crushed
1 ½ tablespoon of salt
1 teaspoon brown sugar
300 ml coconut milk from 1/2 coconut
1 teaspoon of tamarind water from 1 teaspoon of tamarind dissolved in 1 tablespoon of water
2 tablespoons of oil for sautéing
Material to ground:
4 shallots
2 cloves of garlic
3 large red chilies
2 red peppers
Cooking Steps
1. Saute ground spices, bay leaves, lemongrass, and galangal until it is fragrant. Add meat. Stir until it changes color.
2. Enter the tolo beans, krecek, salt and brown sugar. Mix well.
3. Pour coconut milk. Stir until thick. Towards removal, add acidic water. Stir well. Set aside.
4. Boil coconut milk, bay leaves, lemon grass and salt until boiling. Add rice. Stir well. Cook while stirring until it sinks in.
5. Take a banana leaf. Add the contents and 1 whole cayenne pepper. Compact it. Wrap. Pin the stick.
6. Steam in an oven that has been heated over medium heat for 1 hour until it is cooked.
Tags
PROMOTED CONTENT
Tags