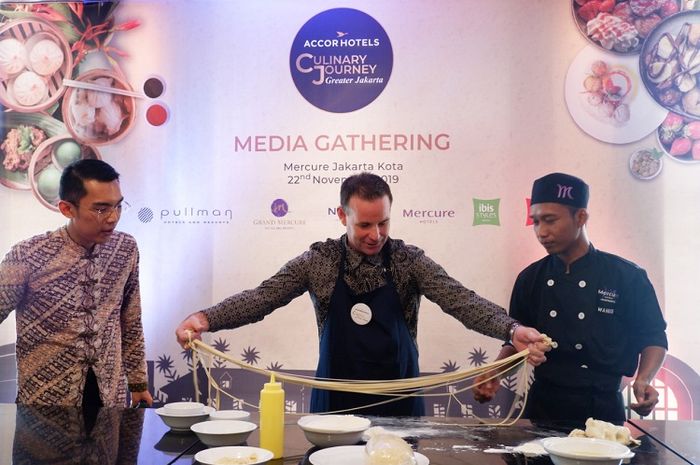 Garth Simmons, CEO of Accor Malaysia, Indonesia, Singapore and South Asia, attempted to make noodles at Press Conference on Friday, November 22 at Chiao Tung Restaurant, Mercure Hotel Jakarta Kota.
Kitchenesia.com - While South and Central Jakarta is business and lifestyles hub, West Jakarta is more like a counterpart of them. The former-downtown Jakarta Old City, which people refer as Kota Tua, bears silent witness of occupation of Dutch East Indies. Hundreds-years colonial properties stand still in this region, where all of them transformed into museums and restaurants.
On the other side, West Jakarta has Chinatown named Glodok. In this neighborhood, Chinese temples and restaurants dominate the streetscape. Glodok is also a retail heaven, with stalls selling cut-price electronic appliances in between of historical temples.
Celebrating cultural harmony in West Jakarta, Accor properties hold special food promotion. Guest can enjoy an array of scrumptious Chinese's Dim Sum and Dutch's Poffertjes Platter.
Tags