Tasty and rich in flavor, this porridge is perfectly nutritious, too.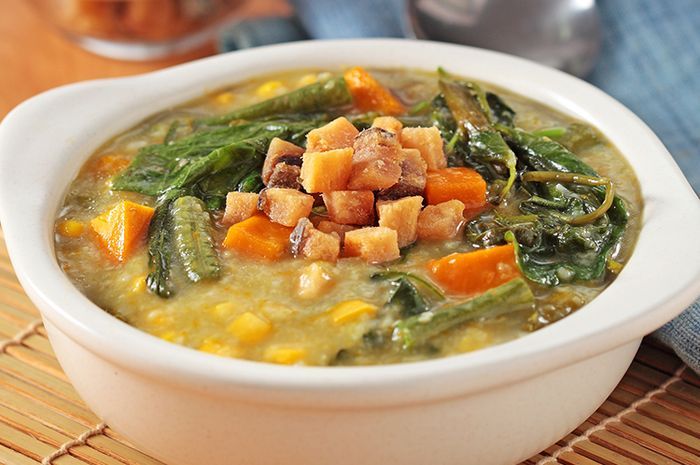 Bubur Manado Recipe
Kitchenesia.com - When thinking about Indonesian traditional rice dishes for breakfast, you may think about chicken porridge or fried rice. In fact, there are a lot more of them. Try cooking new variation such as Manadonese Rice Porridge with Mixed Vegetables. To make it more flavorful, complete this dish with crispy salted fish and shrimp paste sambal. Perfectly in the mix!
Ingredients
100 grams rice
1,250 ml water
2 teaspoons salt
100 grams yellow pumpkin,cubed
50 grams sweet potato,cubed
1 (100 grams) sweet corn,kernelled
20 grams water spinach leaf
20 grams spinach leaf
3 (30 grams) yardlong beans,cut into 2 cm pieces
1 sprigs lemon basil leaves
20 grams young paddy oat leaves
Complements:
150 grams salted fish,cut into squares, fried
100 grams sambal terasi(shrimp paste sambal)
Cooking Steps
1. Bring water to boil. Add in rice and salt. Stir it until half-cooked.
2. Add in yellow pumpkin, sweet potato, and corn kernels. Cook until the rice is almost cooked.
3. Add water spinach, spinach, yardlong beans, lemon basil, and paddy oat leaves. Stir it well. Cook until all ingredients are well-cooked. Remove from heat.
4. Manadonese Rice Porridge with Mixed Vegetables is ready to serve with its complements.
Tags
PROMOTED CONTENT
Tags