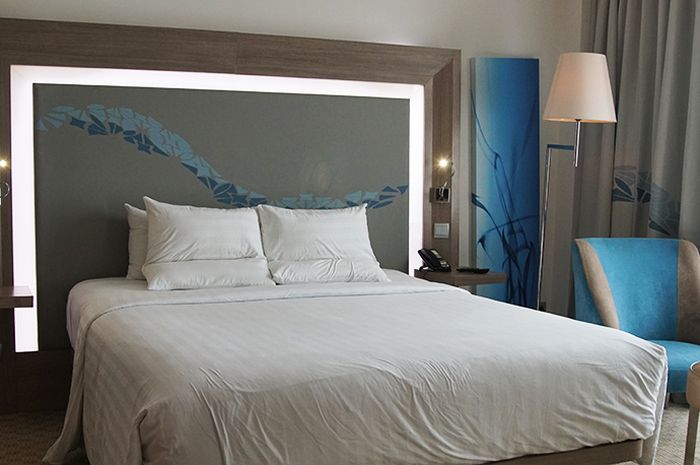 The executive suite of Novotel Tangerang features a modern sleek design with muted color palette painted on the walls and furniture.
Beyond services and experiences, Novotel Tangerang has gained loyal customers thanks to this "unusual" strategy.
Kitchenesia.com - Things happen very strangely nowadays. Some days pass unnaturally fast while the others feel long and boring. Several things we used to take for granted - meeting up for coffee, attending fitness class - seem like a luxury now.
These uncertain times also make simple things complicated. And supposedly complicated things get even more complicated than they already are. When traveling, If the hotel is low priced and centrally located, then it's settled for me. But now, questioning some trivial things - is the towel properly cleaned? Was the previous guest of my room in a healthy condition? - is a matter of life and death.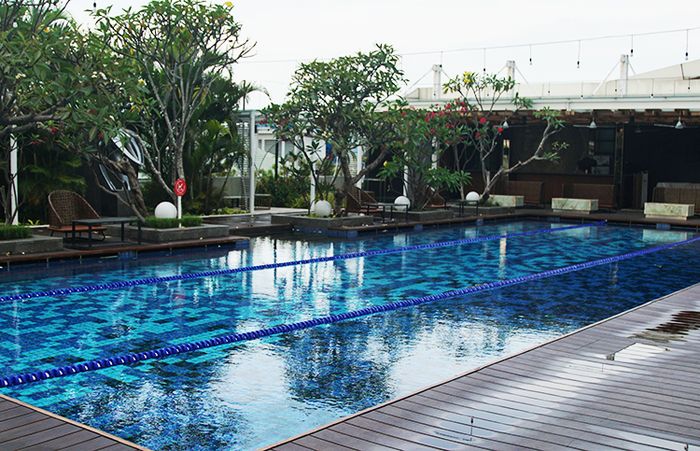 Despite being a high-rise, city hotel, Novotel Tangerang provides a vast swimming pool and serene park, exuding a resort vibe.
Read Also: Ibis Styles Mangga Dua Square in North Jakarta, You Don't Need the Most Expensive Hotel Room to Feel Safe
I came to the Novotel Tangerang Hotel with hesitation. Located near to the industrial zone and adjacent to the biggest mall in the city, this four-star hotel might be still on-demand despite pandemic. My guess was right. It was a weekday, but the check-in queue was quite long. But the check-in process was run swiftly thanks to the responsive front officers. My visit started well, at least.
Practicing Safety Without Sacrificing Comfort

Integrating neutral colors and geometric-accent walls, the lobby combines a modern sleek design with a strong simple styling. The chandelier's dangling crystals make a stunning centerpiece, even in a day setting. Even with stringent social distancing, the spacious lobby can well accommodate huge masses and provide adequate seating for the queueing guests.
Novotel Tangerang boasts 266 rooms spread over 19 stories with sweeping views of Tangerang cityscape. It highlights a vast pool in the middle of a serene green space, exuding a resort feel. These perks are a great alternative while some non-room facilities, such as fitness center, are closed.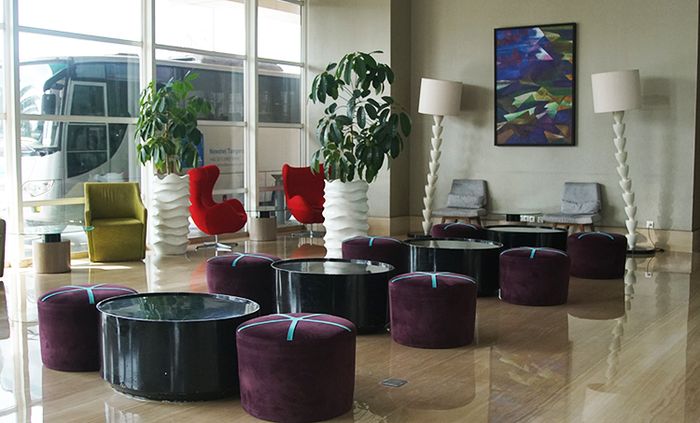 With its spaciousness and effective seating, Novotel Tangerang's lobby enables to provide seating to the queueing guests despite social distancing.
Read Also: The Number One Reason Why You Really Need to Eat Laksa Tangerang
Among three room types, superior, executive, and executive suite, I decided to stay in the latter option. My executive suite room is high-ceilinged, with a spacious 431ft sq width. In a nod to Novotel's minimalist sleek design, a muted color palette dominates the bedroom. Some bluish wall art adds a colorful accent, in an understated way.
Bleisure Travelers Couldnt Ask for More
The room provides convenient features for business travelers: high-speed Wi-Fi, minimalist (yet practical) working desk, and a comfy sofa set. There's also a big-screen LCD TV and coffee maker machine for those who prefer to enjoy their stays in the room.
Contrary to the bedroom's calm energy, the en suite is fully tiled in a dark wood palette, boosting a rustic feel. There's also a spotless, stylish bathtub that enlivens the masculine bathroom.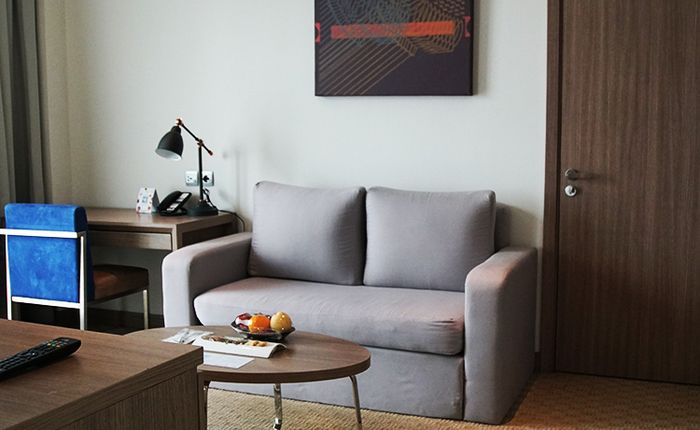 Some bleisure traveler's essentials, such as proper office desk and strong Wi-Fi, are provided in the executive suite room of Novotel Tangerang.
Read Also: Experience the Unique, High-Quality F&Bs in the Middle of Pristine Garden at Urban Farm, PIK 2
According to the PR staff, Novotel Tangerang rewards some unique gift to repeat guests. They have given specially-commissioned towel, lavish snack hampers, and even personalized cycling helmet. The PR staff also promised me one if I could stay here again in the future.
I simply responded, "With these services and experiences, why wouldn't I?"
Full video: