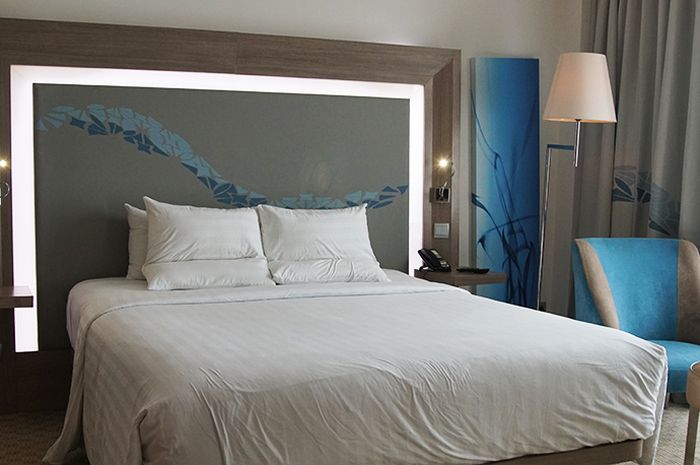 The executive suite of Novotel Tangerang features a modern sleek design with muted color palette painted on the walls and furniture.
The room provides convenient features for business travelers: high-speed Wi-Fi, minimalist (yet practical) working desk, and a comfy sofa set. There's also a big-screen LCD TV and coffee maker machine for those who prefer to enjoy their stays in the room.
Contrary to the bedroom's calm energy, the en suite is fully tiled in a dark wood palette, boosting a rustic feel. There's also a spotless, stylish bathtub that enlivens the masculine bathroom.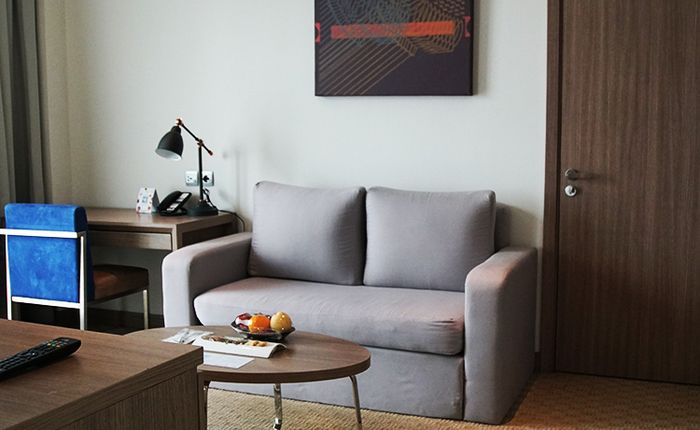 Some bleisure traveler's essentials, such as proper office desk and strong Wi-Fi, are provided in the executive suite room of Novotel Tangerang.
Read Also: Experience the Unique, High-Quality F&Bs in the Middle of Pristine Garden at Urban Farm, PIK 2
According to the PR staff, Novotel Tangerang rewards some unique gift to repeat guests. They have given specially-commissioned towel, lavish snack hampers, and even personalized cycling helmet. The PR staff also promised me one if I could stay here again in the future.
I simply responded, "With these services and experiences, why wouldn't I?"
Full video: