Whip up Lumpia Basah Pepaya Muda (spring rolls stuffed with sautéed papaya) for family's snack with this step-by-step recipe.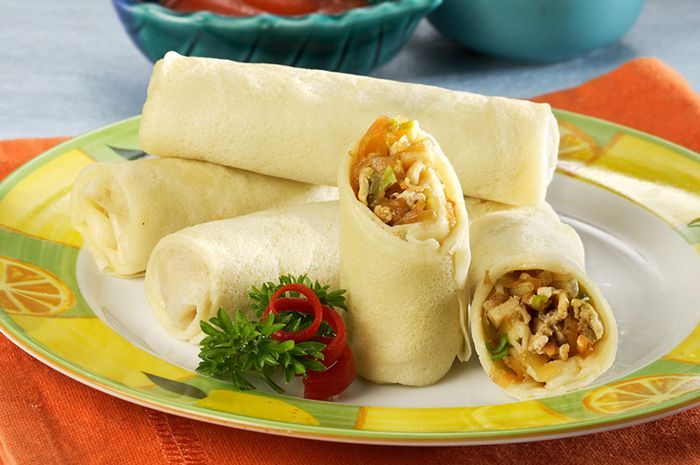 Resep Lumpia Basah Pepaya Muda Ini Bikin Keluarga Rela Untuk Rebutan
Kitchenesia.com - Being one of Chinese-influenced foods, Lumpia (spring roll) are the hit of every celebration. They are known for delectable fillings stretched of assortment of vegetables, meats, or even fruits, wrapped in a sweet-to-savoury fried wonton skin. These starters can absolutely cater everyone's palate.
Whipping up lumpia can be quite laborious, especially when you're making them from scratch. There are some shortcuts – such as buying the ready-to-cook wonton skin – but we suggest to make them ourselves as we can decide the flavours and texture.
Also, self-quarantine days have made family gather at home more often than usual. Thus, cooking them up with family members helping out is always a good idea. Not only does it make the job easier and faster, it can also strengthen family bond.
Follow Lumpia Basah Pepaya Muda (spring rolls stuffed with sautéed unripe papaya) recipe below to make one yourself at home.
Cooking time: 45 minutes
Yields: 14 rolls
Ingredients
For skin:
100 grams all-purpose flour
15 grams sago flour
1 chicken egg
1/4 tsp salt
250ml coconut milk
For filling:
150 grams unripe papaya
100 grams mung bean sprout
1 chicken egg, beaten
4 shallots, minced
2 garlic cloves, minced
1/2 tbsp boiled dried shrimp, ground
1/2 tbsp sweet soy sauce
1 tsp salt
1/2 tsp chicken powder
1 scallion stalk, chopped
100ml water
2 tbsp cooking oil
Cooking Steps
How to make filling:
1. Place papaya on cutting board and chop it into julienne cut. Place in bowl and put a teaspoon of salt. Stir and squeeze until blended, then rinse with water.
2. Heat oil in pan over low heat. Add garlic, shallot, and dried shrimp. Stir until fragrant. Side off sautéed mixture to the side of pan.
3. Add egg, stir constantly until simmer. Add papaya and mung bean sprouts; stir constantly until half-wilted.
4. Add sweet soy sauce, salt, and chicken powder. Stir briefly until just combined.
5. Pour water, and cook with lid until absorbed. Add scallion, and stir briefly. Once the mixture is combined and fragrant, remove from pan. Set aside.
How to make skin:
1. Place salt, all-purpose, and sago flour in a bowl. Mix in a slow speed until just combined.
2. In a different bowl beat chicken egg with coconut milk until combined. Pour slowly and gradually to the flour mixture while mixing. Mix until well-blended.
3. Heat oil in a pan at low heat. Pour mixture slowly to the pan, and make sure to make it thin. Fry skin until crispy and slightly golden. Repeat this step until the skin mixture runs out.
How to combine them:
1. Take a skin; place 2 tbsp of filling on top of the skin and spread evenly. Roll out lengthwise starting from end to end. Repeat this step until the skin or filling (whichever comes first) runs out.
5. Serve Lumpia Basah Pepaya Muda (spring rolls stuffed with sautéed unripe papaya) as iftar snacks.
PROMOTED CONTENT
Tags