Learn how to make Kue Kering Putri Salju Kacang Mete (Crescent-Shaped Cookies with Cashew) for sweet Eid Al-Fitr moment.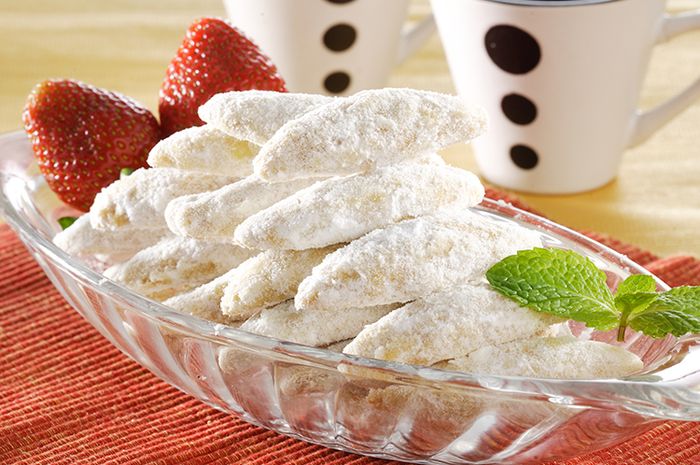 Resep Kue Lebaran Yang Enak, Putri Salju Keju Ini Sempurna Lengkapi Momen Lebaran Nanti
Cooking Steps
/p>
Kitchenesia.com - Only in the two-day Ied Al-Fitr in Indonesia, a fierce game is unavoidable among homemade cookies. But Kue Putri Salju Kacang Mete (crescent-shaped cookies with cashew) outwin them all as it is an iconic celebration cookie.
Nothing says Ied Al-Fitr more than the cookie's crispy sensation and sweetness that can warm everyone's heart.
But the hype over Kue Putri Salju – and other cookies as well – might decrease because the current pandemic limiting people to gather.
Pandemic or not, nothing can stop you from celebrating the holy days with special food. And Kue Putri Salju Kacang Mete is a perfect cookie to celebrate Ied Al-Fitr's sweetness.
Prep time: 30 minutes
Yields: 500 grams
Ingredients
300 grams butter
300 grams margarine
100 grams dusting sugar
600 grams cake flour (low protein)
100 grams almond flour
100 grams cashew powder
2 egg yolks
1. Place all ingredients into mixer bowl with flat beater. On speed 1, stir-dry ingredients using electric mixer for 1-2 minutes to even distribute.
2. Let the mixture chill in fridge for 30 minutes.
3. Take a teaspoon of mixture and roll it lengthwise into rope shape. Then form a crescent. Repeat this step until the mixture runs out.
4. Prepare a baking sheet and apply margarine on its surface. Put the cookies on baking sheet and bake in an oven over 180 Celsius heat for 12-15 minutes.
5. Sprinkle dusting sugar over the cookies. Store Kue Kering Putri Salju Kacang Mete (crescent-shaped cookies with cashew) in an air-tight containers.
PROMOTED CONTENT
Tags