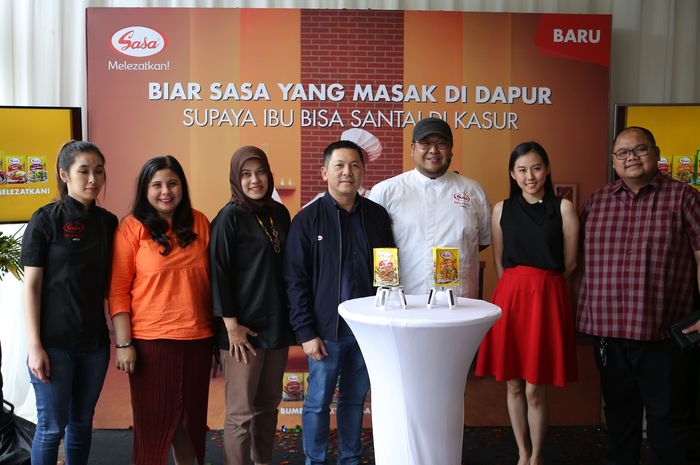 PT Sasa Inti launched its new concept of
Kitchenesia.com - Sasa officially revealed their newborn instant seasoning under the concept of "Sasa Bumbu Praktis" on 25th of February 2020 at Veranda Hotel, West Jakarta.
This concept comes out with six different variants, those of: Sasa Nasi Goreng Ayam Spesial (Sasa Special Chicken Fried Rice), Sasa Nasi Goreng Jawa (Sasa Javanesse Fried Rice), Sasa Bumbu Lumur Ayam Spesial (Sasa Seasoned Chicken), Sasa Bumbu Ungkep Ayam Kalasan (Sasa Kalasan Roasted Chicken), Sasa Bumbu Ungkep Ayam Kuning (Sasa Roasted Yellow Chicken) dan Sasa Bumbu Kuah Sayur Asem (Sasa Sour Vegetable Soup); with the first two variants as their mainstay.
With the emergence of these products, PT Sasa Inti hopes it can be a reliable and convenient cooking partner for everyone as they are made from premium material with affordable price.
Regarding the launching of the series, Albert Dinata as a General Marketing of PT Sasa Inti stated "The release of these products is PT Sasa Inti's tangible proof of our commitment to innovation in order to produce the flavors that suit Indonesian's palate."
Chef Rendy Kong as the Professional Chef of PT Sasa Inti further added that these products are suitable for those who are studying abroad and craving for the taste of Indonesian cuisine. He understood the customers' need yearn for the taste that make them feel like home; and "Sasa Bumbu Praktis" is the solution for it.
Delectable Indonesian comfort foods is now within everyone effort without afraid of making gustatory failure. Now on, as Chef Rendy stated "Everyone can cook!"