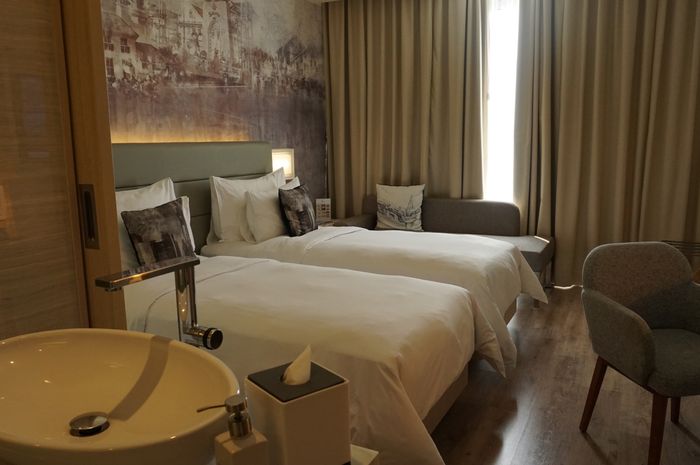 Vertu room - Harris Hotel
Kitchenesia.com - As a home of more than 9 million people, it's not an exageration to say that Jakarta has little to offer when it comes to finding a serene place.
Whether you are from the outskirt or living in the central part of the city, or stumbled in a more populous neighborhood, you just cannot get your eyes laid on a soothing, relaxing spot.
Call me insensitive, but the sound of honking vehicles or some other undescribeable sound are becoming a little bit unbearable sometimes.
"Go somehere else!" they said. "Have a vacation!" they said.
Actually, they said a lot of things, but that's just me, I guess.
Yes, yes. Couldn't agree more. However, my good friend, finding perfect dates for vacation is almost as impossible as... well, it's just difficult anyway.
Not to sound frustrated but I guess staycation is the only way for a person like me to detox the mind, in order to find a serene sanctuary.
The transportation cost is almost next to nothing, just within the city's the distance.
Some people might find staycation meaningless.
Why would you stay in an expensive hotel whose distance less than 10 miles from your house?
Hey, a staycation in a hotel provides facilities that I use.
Or at the very least, I'm not in my house.
You don'need to go to hotel just because you're far away from home.
Sometimes, you could stay in a hotel to find peace.
Recently , I had the opportunity to experience the V-Suite, the most expensive room in a five-star hotel called Harris Vertu.
Harris Vertu literally embodies the likes of a city hotel: located in the city, built in a skycrapper-like building, and far from laid-back or boutique.
I was welcomed in the lobby that I should say too lavish for my liking.
It somehow made me felt intimidated first. You know the kind of feeling you get when you walk in to an expensive mall and the sales girls could make you run away simply by just saying 'Can I Help You'?
Yep. That kind of feeling.
Perhaps that was the first time I entered a top-tier hotel.
I'm no expert in explaning things, but if you watch the movie The Great Gatsby (2013), you may acknowledge Jay Gatsby's luxurious living room.
Harris Vertu's lobby is, more or less, similar to Gatsby's.
Hey, I didn't say it was bad.
Instead, after a few minutes of looking and glancing, I thought that the lobby was spectacular.
Gold and white dominate the colors of lobby, flowers and artsy ornaments add the luxury.
The lobby is located on the fifth floor of the building because the first 5 levels are dedicated for external tenants such as restaurant and department store.
Considering Harris Vertu is a city hotel, it was a quite a bizarre view for me because from what I picture in mind, a city hotel is for people who stay for only a night or two the most.
That's why facilities in a city hotel are usually limited, if not zero.
Resorts, however, mostly provide attractions and facilities that a city hotel couldn't have, such as shops, kids area, couple spots, et cetera et cetera.
But no, not in this one. As If Harris Vertu wanted to embody "all-in-one" kind-of hotel.
As I immensed deeper to the rooms, the nuances were completely different.
Stylish in a sober, luxurious way – sleek, clutter-free, muted color schemes – the bedrooms have been micro-managed right down to the gray marble table underneath 42 inch flat television as well as a personalized welcome note.
Vertu Room dari Harris Vertu Harmoni
Highlights of the room V-Suite room are king-size bed, mini bar, meeting room, Wi-Fi, espresso machine, refrigerator, and a bathroom with jacuzzi inside.
The immaculately white-tiled, minimalist bedroom may cause different opinion.
Given there is a see-through, glass-walled shower room, the bathroom is the best part for lovebirds, the newlyweds. If you know what I mean - wink wink.
Ahem.
Or, you can just close the bathroom section by closing the wooden door for better modesty.
Harris Vertu is nestled in the heart of Jakarta precisely in the historic district of Jakarta, with the traces of Dutch, Chinese, and Betawi.
Such influence is depicted in the the restaurant and building style.
Go outside the hotel and wander around. You will find places worth noticing: Monumen Nasional, Istiqlal Mosque, Cathedral Church, and Museum Gajah.
Malls - if that is your thing - are only few blocks from the hotel, from the upscale places like Plaza Indonesia and Grand Indonesia, to the more affordable shopping district like Tanah Abang.
Back to the hotel, the rooftop swimming pool and spa will rejuvenate yout spirit after a day's travel - or just for the sake of having a staycation.
V-Suite guests are entitled of executive longue and it serves the representation of famous culinary around the world, such as pizza, pasta carbonara, and baguette, and many others.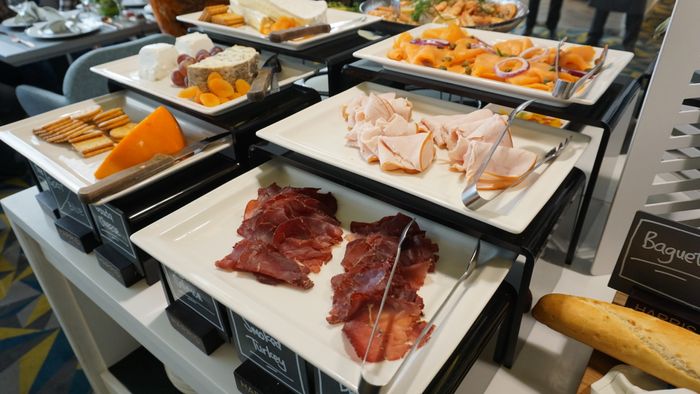 The delicacies
If you're looking for a more authentic local cuisine, it also offers authentic street food from Bali, and Java.
The newly refreshed menu features healthier versions of local favorites, all made with the freshest local produce.
Bright by day, breezy by night, Harris Vertu provides extensive landscape viewable from the room, from Monas to Sunda Kelapa Harbour.
Hospitality, you asked? Well, the hotel's warm, affable staff seals what is a hugely persuasive deal. (Reporter: Sera B)