Learn to make tasty and healthy sautéed chicken liver and gizzard at home with this step-by-step recipe!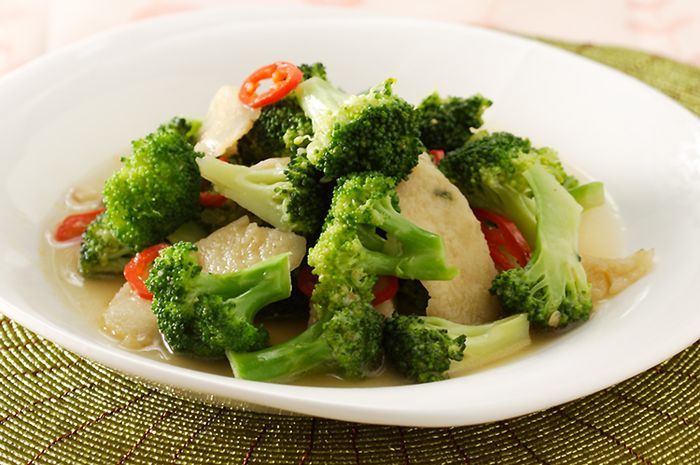 Even veggies-hating kids will love this super-tasty Brokoli Tumis Otak-Otak (sautéed fish cake with broccoli)
Kitchenesia.com - Got veggie-hating kids? This delectable sautéed fish cake with broccoli will convert them! Topping broccoli with a savory-at-its-best fish cake is an easy way to entice picky eaters to eat their veggies.
Also, this homemade recipe only requires 30 minutes to prepare, a fitting breakfast dish: fast and fulfilling!
The recipe below contains wine. Skip it or replace with mix of a tablespoon of ginger water and fish sauce.
Duration: 30 minutes
Yields: 4 servings
Ingredients
300 grams broccoli, boiled shortly then drained
2 rolls of ready-to-use fish cakes, sliced on the bias
4 garlic cloves, crushed
1 centimeter piece of ginger, crushed
2 reh chillies, thinly sliced
1 teaspoon fish sauce
1/4 teaspoon salt
1/4 teaspoon white pepper
1/4 teaspoon sugar
100 ml water
1 teaspoon angciu (Chinese cooking wine)
1 teaspoon sesame oil
1 tablespoon cooking oil
Cooking Steps
1. Heat oil on a non-stick frying pan over mediun fire. Add garlic, ginger, and red chillies altogether into pan. Stir well until fragrant.
2. Add fish cake and stir well. Add fish sauce, salt, white pepper, and sugar. Stir until blended.
3. Pour water to boil and stir until drained. Add broccoli, angciu, and sesame oil. Stir until well-blended.
4. Serve sautéed fish cake with broccoli alongside steamed rice.
PROMOTED CONTENT
Tags