Semarangnese kupat tahu (peanut-sauced rice cake & tofu) has the most aromatic sauce compared to other indonesian kupat tahu versions. to add even more flavour, serve it with your favorite sambal.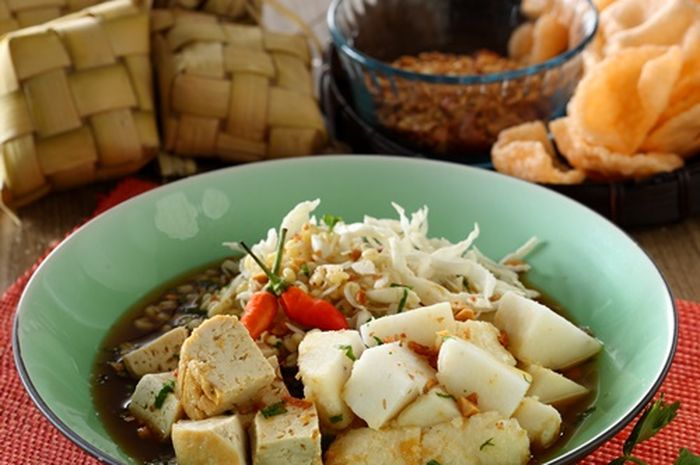 Kupat Tahu Semarang
Ingredients
Sweet Sauce Ingredients:
2,100 ml water
6 cloves
10 cm cinnamon
125 grams brown palm sugar
1¾ teaspoons salt
6 cardamoms
1 teaspoon fennel seeds
5 cloves garlic,crushed,
1 teaspoon sugar
Kupat Tahu Ingredients:
6 rice cakes
1 (250 grams) tofu,fried until half-cooked
150 grams mung bean sprouts
100 grams cabbage,finely sliced
2 tablespoons crispy shallot
2 tablespoons celery,finely chopped
Sambal Ingredients (Ground Until Smooth)
125 grams peanuts,fried
2 red chili peppers
4 bird's eye chili peppers
1 clove garlic
½ teaspoon salt
¼ teaspoon sugar
150 ml hot water
Cooking Steps
1. Sweet sauce: boil all sweet sauce ingredients until fragrant. Remove it from heat and strain it.
2. Put tofu, mung bean sprouts, cabbage, and rice cake in a plate. Drench it with sauce. Sprinkle it with crispy shallot and celery.
3. Semarangnese Kupat Tahu (Peanut-Sauced Rice Cake & Tofu) is ready to serve with its sambal.
PROMOTED CONTENT
Tags