West borneonese bubur pedas (spicy mixed porridge) has a lot of flavor and texture since it combines many kinds of vegetables from roots, fruit, shoots, and leaves with fish and beef. cook this dish for your family. not only healthy, this dish is also hot and very tasty since it is enriched with special spices blend.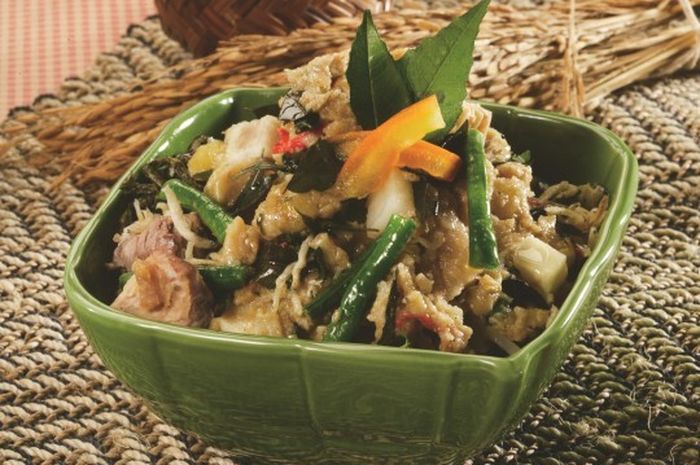 Bubur Pedas (Spicy Mixed Porridge)
Ingredients
200 grams beef tetelan(meat, fat, and tendon scraped from beef bone)
2,000 ml water
200 grams rice,toasted
1 teaspoon coriander seeds powder,toasted
½ teaspoon cumin,toasted
4 cloves garlic,finely sliced
8 cloves shallot,finely sliced
¼ teaspoon white pepper powder
2 lemongrass (white parts only),crushed
½ teaspoon sugar
150 grams grated coconut,toasted, ground
200 grams sweet potato,peeled, cubed
100 grams bamboo shoots,boiled, cut into small pieces
50 grams teri nasi (indonesian small anchovy),fried
50 grams peanut, boiled
4 red chil finely sliced
50 grams fiddlehead leaves
3 yardlong beans, cut into small stick
50 grams mung bean sprouts,roots trimmed
40 grams curry leaves
2 teaspoons salt
2 tablespoons cooking oilfor sautéing
Cooking Steps
1. Boil tetelan in 2,000 ml water until well done and tender. Cut it into small pieces. Strain the broth and reduce it into 1,500 ml. Put back tetelan into the broth and bring them to boil.
2. Grind toasted rice, coriander seeds, and cumin. Set it aside.
3. Heat cooking oil on the pan. Sauté garlic and shallot until fragrant. Add in ground rice mixture, white pepper, lemongrass, sugar, and coconut. Stir well.
4. Pour sautéed ingredients into the boiled beef. Cook it until boiling and keep stirring it once in a while.
5. Add sweet potato, bamboo shoots, teri nasi, peanuts, and red chili peppers. Mix it well.
6. Add in fiddleheads leaf, yardlong beans, mung bean sprouts, curry leaves, and salt. Mix well and cook it until all ingredients are well done and the porridge is thickened. Remove from heat.
7. Bubur Pedas (Spicy Mixed Porridge) is ready to serve.
PROMOTED CONTENT
Tags