A hearty arem-arem mi or noodle cake filled with chicken liver and gizzard makes an easy snack you can bring along to the office, school, or your vacation. banana leaf also infuses nice aroma in this arem-arem.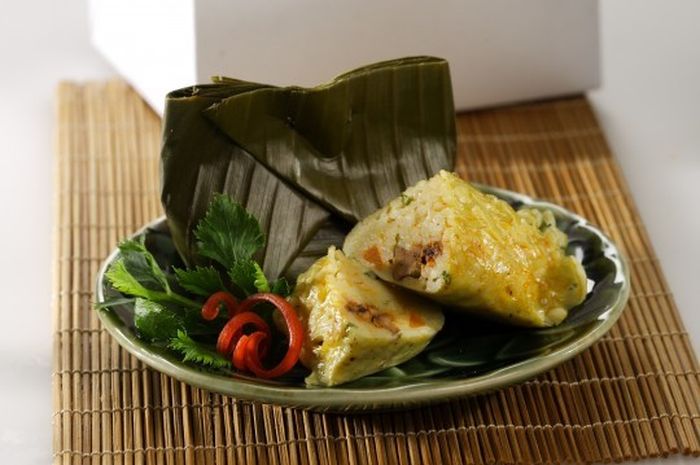 Arem-Arem Mi (Noodle Cake in Banana Leaf)
Ingredients
noodle cake ingredients:
200 grams egg noodles,boiled and drained
3 eggs
100 ml coconut milkfrom 1/4 coconut
1 scallion, finely sliced
1 teaspoon salt
1/2 teaspoon white pepper powder
banana leaves for wrapping

filling ingredients:
5 pairs chicken liver and gizzard,boiled, finely diced
100 grams carrots,finely diced
50 grams green beans,finely sliced
1 salam (indonesian bay)leaf
2 cm galangal,smashed
3/4 teaspoon salt
1/4 teaspoon white pepper powder
1/2 teaspoon sugar
200 ml coconut milkfrom ¼ coconut
2 tablespoons cooking oilfor sautéing

ground spices blend
5 cloves shallot
3 cloves garlic
2 large red chili peppers
3 curly red chili peppers


Cooking Steps
Filling: sauté ground spices blend, salam leaf, and ginger until fragrant. Add carrots and beans. Stir it until slightly softened. Add in chicken liver and gizzard, salt, pepper, and sugar. Stir well. Pour in coconut milk. Cook it until all ingredients are well blended. Set aside.
Noodle cake: mix well noodles, eggs, coconut milk, scallion, salt, and pepper. Set aside. Take a banana leaf.
Spread noodle cake mixture on top of it. Add filling on the center and cover it with noodle mixture. Fold the banana leaf wrapper into box and secure the end with toothpick.
Steam it for 40 minutes over low heat until firm and well-cooked. Remove from steamer.
PROMOTED CONTENT
Tags