This palembangnese dish is actually quite easy to make at home. follow our tested recipe and let's cook this pempek kapal selam (fish cake with egg filling) at home.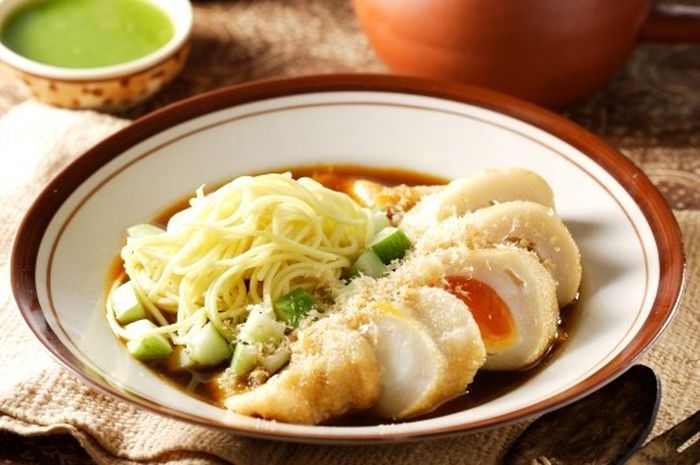 Pempek Kapal Selam (Fish Cake with Egg Filling)

Ingredients


25 grams all-purpose flour
200 ml water
2 cloves garlic,grated
300 grams spanish mackerel fillet,mashed
¼ teaspoon seasoning
2½ tablespoons salt
1½ teaspoons sugar
300 grams sago starch
3 tablespoons sago starchfor coating
7 eggs
cooking oil for frying


cuko sauce ingredients:
500 grams brown palm sugar,finely chopped
1,500 ml water
75 grams tamarind
1 teaspoons salt
2½ teaspoons vinegar


ground spices blend:
3 tablespoons tongcai(salted radish)
10 cloves garlic,mashed


sambal ingredients:
25 green bird's eye chili peppers,boiled, ground
150 ml water
¼ tablespoon salt


sides:
1 tablespoon ebi (dried shrimp),toasted, ground
2 (200 grams) cucumber,deseeded, diced
200 grams fresh yellow noodles



Cooking Steps
Boil all-purpose flour, water, and garlic. At the same time, stir it until the porridge is bubbling. Remove it from heat. Let it warmed.
Pour it into Spanish mackerel. Knead it until elastic. Add in salt and sugar. Slam the dough repeatedly until they are elastic and do not stick. Add in sago starch. Mix it well. 
Coat your hand with sago starch. Add 100 grams of pempek dough. Form it into a vessel with the lower side is thicker than the body.
Fill it with egg. Close and firm the edge of the cone. Repeat it until all dough and filling ingredients are used.
Boil pempek in 2,000 ml water added with 1 tablespoon oil until they are well-cooked. Remove it from heat. Let it cool.
Fry pempek in hot oil until golden yellow and crispy on the outside.
Kuah Cuko: Boil brown palm sugar and water until the solid ingredients are dissolved into the liquid. Remove it from heat and strain it. Add in cuko ground spices blend, tamarind, vinegar, and salt. Cook them until boiling and thickened. Remove it from heat and strain it. Set it aside.
Green Sambal: Mix together chili pepper with water and salt. Set it aside. 
Serve Pempek Kapal Selam (Fish Cake with Egg Filling) with its sides, a drench of cuko, green sambal, and a sprinkle of ebi.
Tags
PROMOTED CONTENT
Tags