Sayur lodeh (mixed vegetables coconut soup) is one of the comfort food your mother often cooks at home. now you can satisfy your longing for the taste of home. cook it by yourself and serve it with shrimp paste sambal and crispy fried salted fish.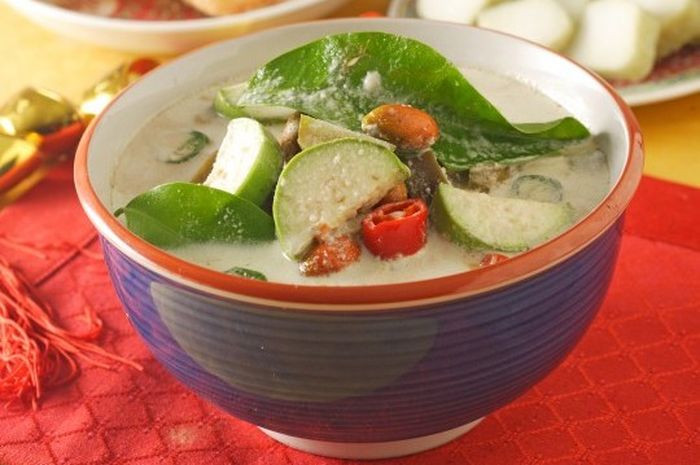 Sayur Lodeh (Mixed Vegetables Coconut Soup)

Ingredients


200 grams young jackfruit,cut into chunks
300 grams chayote squash,cut into chunks
8 yardlong beans, cut into strips
1 eggplant, halved,then cut into chunks
100 grams young paddy oat leaves
3 large green chili peppers,sliced
2 salam (indonesian bay)leaves
3 cm galangal,crushed
2 tablespoons salt
2 teaspoons brown palm sugar,finely chopped
2,000 ml coconut milkfrom 1 coconut


ground spices blend:
8 cloves shallot
3 cloves garlic
3 candlenuts, toasted
1/2 teaspoon terasi (shrimp paste),fried
2 cm sand ginger
½ teaspoon coriander seeds



Cooking Steps

1. Boil coconut milk, salam leaves, galangal, and ground spices blend until fragrant.
2. Add jackfruit, salt, and palm sugar. Boil it until slightly softened.
3. Add chayote squash, yardlong beans, eggplant, paddy oat leaves, and green chili pepper. Stir well. Cook it until well-done. Remove it from heat.
4. Sayur lodeh (Mixed Vegetables Coconut Soup) is ready to serve.
PROMOTED CONTENT
Tags