Who does not know gado-gado betawi (vegetable with peanut sauce)? you can enjoy this salad with rice cake or a plate of rice. you want to enjoy it without any carbs? just go for it. the peanut sauce in it will be a good source of protein and can keep you full.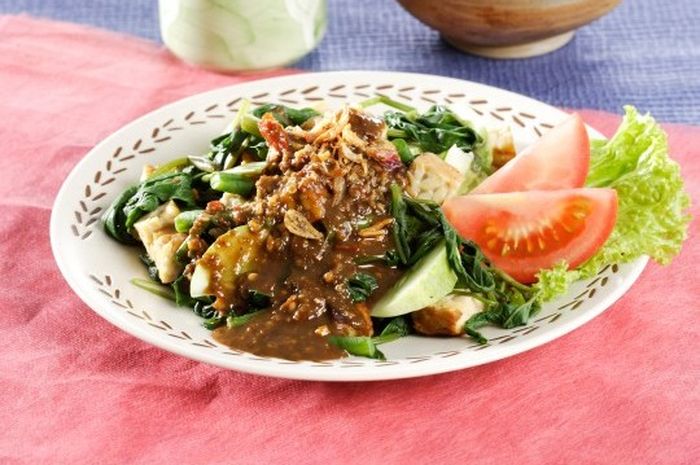 Gado-Gado Betawi (Vegetable with Peanut Sauce)

Ingredients


150 grams yardlong beans,cut into 2 cm pieces
200 grams cabbage,coarsely chopped, blanched
75 grams mung bean sprouts,soaked in hot water
1 chayote squash, steamed quickly
1 chinese white tofu, fried
200 grams tempeh,fried
2 cucumbers, cut into pieces
50 grams fried cassava starch crackers
1 tablespoon crispy shallot


peanut sauce ingredients:
175 grams fried peanut
5 red bird's eye chili peppers
3 cloves garlic,fried quickly
½ teaspoon salt
4 teaspoons brown sugar,chopped
125 ml water
2 teaspoons tamarind juicefrom 1 teaspoon tamarind and 2 tablespoons water
2 jeruk limau (sambal limes),squeezed



Cooking Steps

1. Peanut sauce: grind garlic, bird's eye chili peppers, salt, brown sugar, and peanut into smooth mixture. Pour in water gradually while keep grinding it. Add tamarind juice. Stir well. Add in jeruk limau juice. Stir well.
2. Mix well peanut sauce with all vegetables. Stir it.
3. Gado-Gado Betawi (Vegetable with Peanut Sauce) is ready to serve with cassava starch crackers and a sprinkle of crispy shallot.
PROMOTED CONTENT
Tags