This rawon (east javanese beef black soup) served with short mung bean sprouts, shrimp paste sambal, salted egg, and shrimp crackers is always being our favorite comfort food. this dish is guaranteed to be your family's favorite.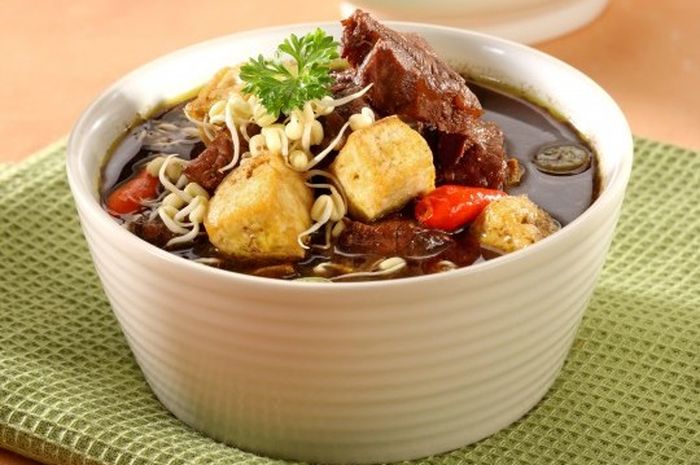 Rawon (East Javanese Beef Black Soup)

Ingredients


350 grams beef tetelan(meat, tendon, and fat scraped from beef bone)
1,300 ml water
4 lime leaves, midribs removed
1 lemongrass (white part only),crushed
1 scallion, cut into 1 cm pieces
1½ teaspoons salt
½ teaspoon white pepper powder
¼ teaspoon sugar
3 tablespoons cooking oilfor sautéing


ground spices blend:
7 cloves shallot
3 cloves garlic
3 keluak (black nuts), soaked in hot water
1 cm turmeric,toasted
3 candlenuts, toasted


sides:
shrimp paste sambal
shrimp crackers
mung bean sprouts
salted eggs



Cooking Steps

1. Boil beef tetelan until well-cooked. Strain and reduce the broth into 1,000 ml. Bring it again to boil.
2. Sauté ground spices blend, lime leaves, and lemongrass until fragrant. Add scallion. Stir well. Pour it into the boiling tetelan. Add in salt, white pepper powder, and sugar. Cook it until all ingredients are well done. Remove it from heat.
3. Rawon (East Javanese Beef Black Soup) is ready to serve with its sides.
PROMOTED CONTENT
Tags