Ayam opor merah (chicken with red coconut sauce) is a twist from usual opor ayam (chicken in coconut sauce). spicy food lovers will appreciate this dish since the sauce is surely hot and so appetizing.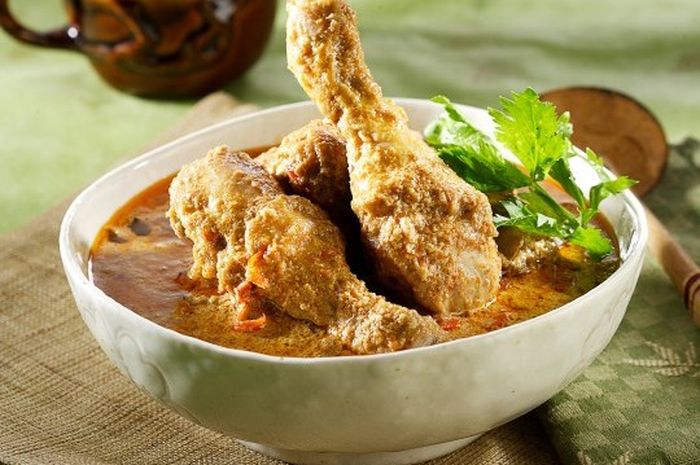 Ayam Opor Merah (Chicken with Red Coconut Sauce)

Ingredients


1 free-range chicken, quartered
1 tablespoon tamarind juice
2 lemongrasses, crushed
4 lime leaves, midribs removed
2 salam (indonesia bay)leaves
2 cm galangal,crushed
2 teaspoons salt
2 teaspoons brown palm sugar,finely chopped
1,400 ml coconut milkfrom the second press of 1 coconut
250 ml coconut milkfrom the first press of 1 coconut
2 tablespoons cooking oilfor sautéing
2 tablespoons crispy shallotfor topping


ground spices blend:
3 cloves garlic
6 cloves shallot
4 candlenuts, toasted
4 large red chili peppers
2 bird's eye chili peppers
1 teaspoon coriander seeds
¼ teaspoon cumin
½ teaspoon white pepper powder
2 cm ginger
2 cm turmeric,toasted



Cooking Steps

1. Marinate chicken with 1 tablespoon tamarind juice. Let it set for 15 minutes.
2. Sauté ground spices blend, lemongrass, lime leaves, salam leaves, and galangal until fragrant.
3. Add in chicken. Stir it until it changes colour. Add salt and brown sugar. Stir it well.
4. Pour coconut milk gradually. Cook it until boiling.
5. Pour in coconut cream. Cook it until the chicken is infused with the sauce and the sauce is thickened. Remove from heat.
6. Ayam Opor Merah (Chicken with Red Coconut Sauce) is ready to serve.
PROMOTED CONTENT
Tags