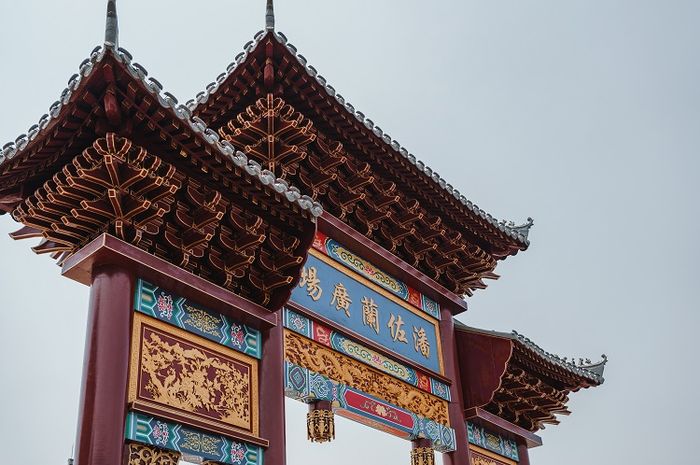 Paifang-styled gate is one of attraction of Pantjoran PIK.
Pantjoran PIK collects the best of Indonesian and Peranakan cuisines in one laid-back, Chinese-styled culinary spot.
Kitchenesia.com - The new culinary spot in Gold Island, Pantai Indah Kapuk, North Jakarta opened its door on Friday (11/20). Presented by Agung Sedayu and Salim Groups, Pantjoran PIK collects legendary street food vendors, Peranakan food sellers, and some Indonesian traditional food hawkers in one place.
Residing on 5,500-meter square land, this newest culinary spot is inspired by Pancoran Kota. It is a street in Jakarta's Chinatown, West Jakarta, that is popular for street foods and Chinese cultural center.

Baca Juga: From Parking Lot to Culinary Spot: Kitchenesia's Guide to Thamrin 10, Jakarta's Hippest Hangout Place
Natalia Kusumo, CEO Hotels and Mall Division 2 Agung Sedayu Group kick off the grand opening event with a speech. "Pantjoran PIK aims to feed your needs with the best-quality foods. We wish food SMEs can expand their business in Pantjoran PIK so that job vacancies can increase."
A Splendid Parade of Legendary Foods
With almost full occupancy, Pantjoran PIK collected several in-demand restaurants and food vendors. Some of them even have operated more than a hundred years. Among legendary and long-running restaurants are Wong Fu Kie, Kopi Es Tak Kie, Kari Lam, Ponggol Nasi Lemak, dan Es Pluit Acen. Its iconic entrance and pleasant ambience make Pantjoran PIK a perfect spot for a casual gathering.
Tags