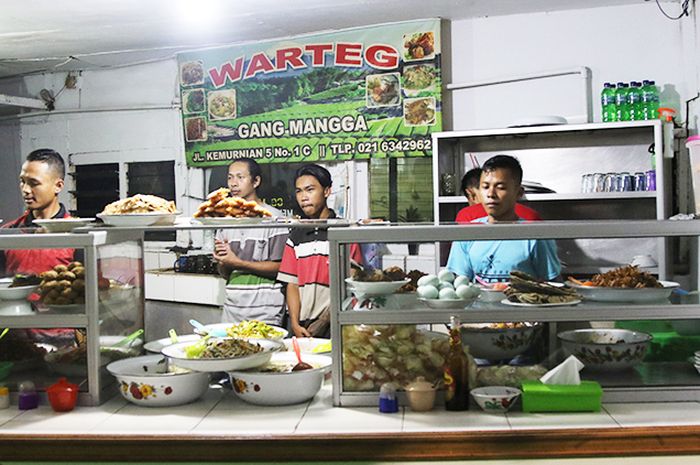 Warteg Gang Mangga serves more complete package than common warteg out there.
Warteg Gang Mangga proves that it is always the food that makes the customer loyal.
Kitchenesia.com - As the night drew in and a cold wind began to bite, my friends and I wandered along the unknown street to eat some warm foods. We went deeper into the residential area to find out what locals eat daily. It was dead dark that the silvery moonlight was our only guide. There's a slight idea in my mind to call it a day and waited for the morning to come. But nah, our pangs of hunger won.
Read Also: Warung Wardani at Transpark Bintaro, a Lovely Balinese Restaurant in a Modest Setting
We finally stumbled upon a small diner after a long, tiring wander. The diner was quite full, although the dinner time was over. Luckily, we managed to snag a table. I think I understand why this street was dark and empty. Some went to sleep on time, and the others were leaving to eat out in here.
Warteg Gang Mangga is very easy to spot on, although you aren't specifically looking for it. It is located between two branches of Y-junction. The bright lighting and white walls juxtapose with the dark night, making it look like a light at the end of the tunnel.
Lacks Convenience Here and There
The owner said that Warteg Gang Mangga had been running for more than 36 years. Its success didn't spur her on to make it a comfy and clean warteg for everyone to dine in. Still, Warteg Gang Mangga lives up to warteg's widespread notoriety: cramped place and poor hygiene.
The semi-open layout also causes pros and cons. The pros side is that it creates airflow in the dining room. The dining room is indeed in a clutter of smelly untidiness, but the chilly wind from outside make it way better.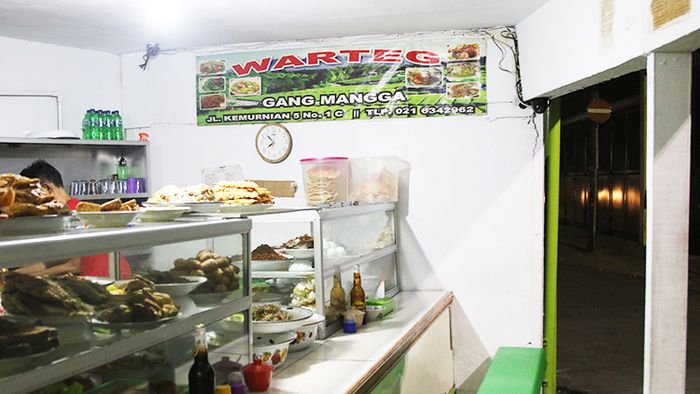 Warteg Gang Mangga is a 24-hour diner serving Javanese humble foods, only few in its kind.
Read Also: Iki Koue at Neo Soho Mall, West Jakarta, Traditional Sugary Treats in an Artful Edge Is Their Speciality
The same arrangement also enables some "unwanted" visitors to steal everyone's foods. Behold the sight of stray cats are left free to walk and sit between tables. And worse yet, those irritating flies hover around the tables waiting to swoop down its prey (in other words, my foods).
Despite the incommodiousness this diner offers, it is still thronging with the masses. Why do people keep going back?
The Foods That Make People Loyal
As the name implies, Warteg Gang Mangga draws upon the cooking of Javanese foods. Typical foods that are on offer are humble and easy to cook, namely ayam goreng (fried chicken), tempe orek (tempeh with sweet soy sauce), telur balado (fried eggs in a spicy sauce), sayur kangkung (sauteed water spinach) and many others.
Just when I thought things were normal, I saw some non-typical warteg foods were also served here. The likes of semur jengkol (dogfruit stew) and gulai tunjang (beef tendon curry stew) are not from Java; both are from Betawi and Padang foods respectively. Seriously, I could scarcely fathom Warung Gang Mangga's concept.
Tags