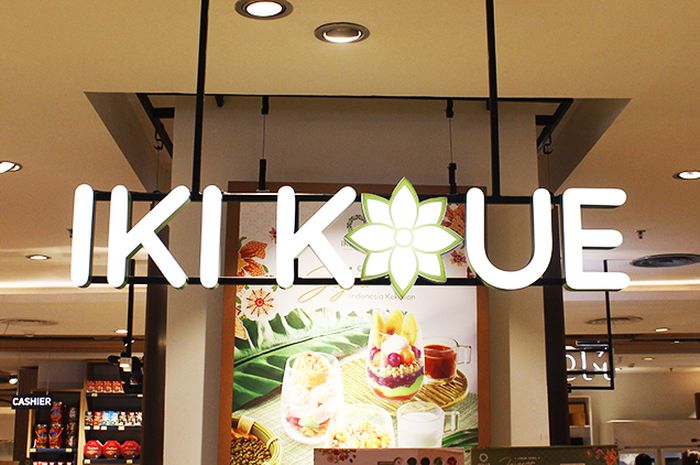 Located in Neo Showo, West Jakarta, Iki Koue features less-known Indonesian traditional sweet treats and savoury snack.
Located in Neo Soho, West Jakarta, Iki Koue promises rare traditional desserts with a creative spin.
Kitchenesia.com - Now we're living in half in, half out sort of new normality, when sun-basking in the park and going for a bike ride are acceptable. Home quarantine was never mandatory. It was more of an awareness and the fear of people giving out judgmental stares.
It's also interesting to think some harmless, pre-pandemic habits also need to be left out. Remember attending concerts? Or eating at the buffet? Nah, forget those habits and moving on. We're not going to meet them on many days ahead.
Read Also: Chandra Yudasswara On Being Celebrity Chef and A-List Restaurateur: 'Never Forget My Roots'
Current pandemic also holds me back from taking up my ultimate hobby: eating some traditional light snacks. Nearly every time, traditional snacks are showcased in an unlidded container and sold in open-air markets.
My hobby is not safe since forever, but this time is riskier.
Several business owners have heard people's demands for safer and more hygiene foods. Iki Koue is one of them; however, they play the game riskier: selling variants of rare traditional light bites.
Level up the Traditional Snacks Game
Iki Koue counter is located inside Neo Soho's Food Hall, on the same area with Food Hall's department store and other artisanal food stores. Yet, despite the location, Iki Koue is easy to spot on. It is nestled a spot near the entrance, and the sign is pretty reassuring.
The store features sleek glass cases that show off snacks, condiments, and toppings. There is also an expanded savoury snack station. It looks like a collection of jewels in a jewelry box, but they're edible.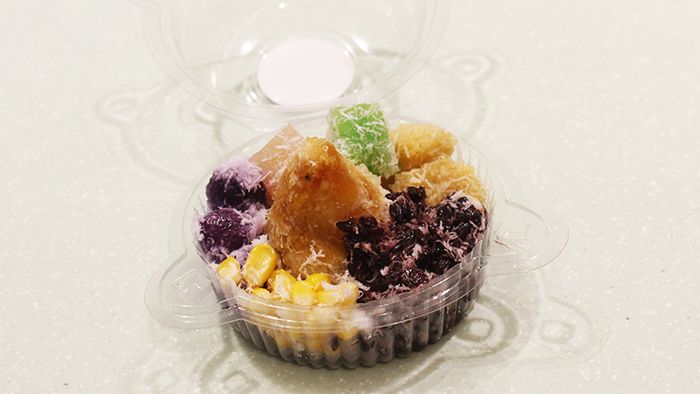 Sawut mini comprises of traditional dessert arranged like a mountain.
Read also: Laksa Betawi Asirot, Authentic and Unpretentious Taste of Jakarta's Rarest Dish
Karina Kumarga, the co-owner of Iki Koue, introduces us the six variants of Cenal-Cenil. It is an assortment of traditional desserts served in a PP-plastic drink cup. Think about Baskin-Robbins where you can customize your ice cream, but they don't melt once expose to heat.
I raise an eyebrow at their decision to name them "cenal-cenil". To qualify for the title, there should be cenil (coloured tapioca balls) in every variant. Instead, only four out of six variants using cenil. The rest two are more like dessert soups.
Article continues after a video below
Traditional Dessert With a Creative (and Colorful) Spin
I order Cenal-Cenil Komplit; and for a sweet tooth like I am, it is a real deal. Traditionally, cenil is served on a banana leaf. Iki Koue's version makes me wonder whether I am eating some European dessert.
This dessert comprises of sweet potato cenil, grated coconut, rainbow getuk cake, bubur jongkong (pandan rice pudding), and bubur sumsum (rice pudding). The last two feature custard-like texture, lending a lighter feel. The composition bound together with palm sugar syrup. Iki Koue also puts a more contemporary version with cashew and sweet corn as toppings.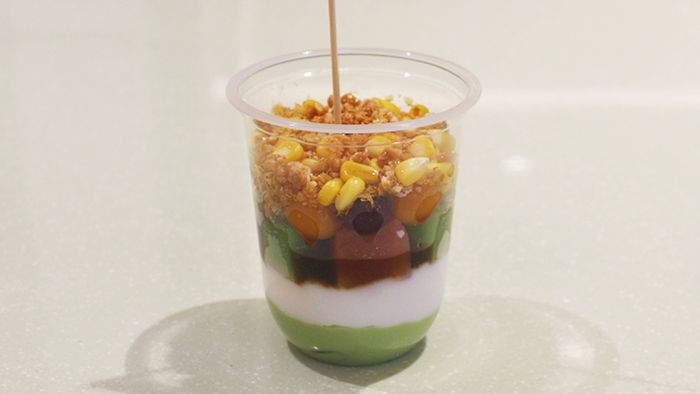 Cenal-cenil komplit boots moderate sweetness with parfait-like appearance.
Read also: From Parking Lot to Culinary Spot: Kitchenesia's Guide to Thamrin 10, Jakarta's Hippest Hangout Place
Each composition is stacked up in a parfait-like manner, showing colours harmony. Every piece of dessert is supposed to make it outrageously sweet. Surprisingly, the sweetness is moderate, with a slight of coconut-y aroma. It is something that people who aren't into dessert can tolerate, or maybe eat daily.
For those who prefer it classic, Iki Koue provides sawut mini. It comprises of bite-sized sawut (steamed cassava), rainbow getuk cake, sweet corn, sweet potato cenil, dark glutinous rice, and lopis (glutinous rice cake). Every component is arranged like a mountain, giving tribute to Indonesia nature.
Tribute to Indonesian Culture
There are a few options of savoury, hors d'oeuvre-styled foods among the mains: lemper (meat-filled glutinous rice), traditional rissole, and pastel (meat-stuffed fried pastry). The options are very, very limited, unfortunately.
I suspect that the lack of a kitchen makes it difficult to cook and sell numerous snack options seamlessly. Iki Koue is sweets store anyway, not a restaurant.
To atone this lack, Iki Koue offers more snack options via online pre-order. Some snacks are even exclusive for online pre-order only, such as Tampah Gorengan (fritters set). Another online pre-order benefit is the presentation. Several Iki Koue's snack set is adorned with tampah (Indonesian-styled winnowing tray). Traditional foods in traditional styling? Doubtless, this is genius.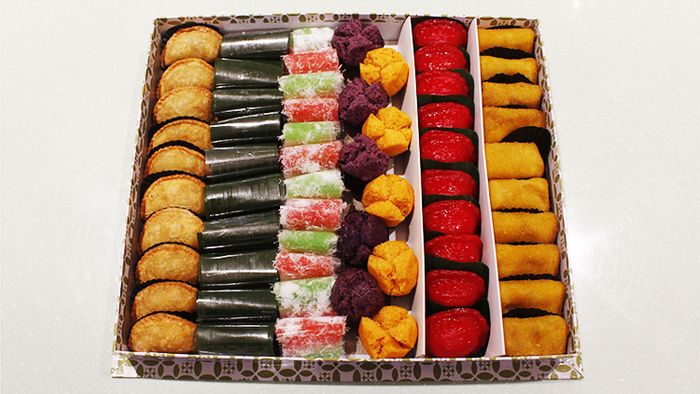 Kue Nampan Isi 60 consists of sixty snacks which are available via online pre-order.
Read Also: MasterChef Indonesia Finalist Opens New Food Stall Despite Pandemic, Boosting Eco-Friendly Packaging
Nor is it as if Jakarta has any shortage of decent traditional snacks. Iki Koue, being one of few of its kind, offers an experience of less-known traditional light bites with a creative spin. And it is colourful and inexpensive, too. Iki Koue is a go-to sweetshop when city folks long for traditional light bites.
Iki Koue, Food Hall Neo Soho Mall, West Jakarta. +6282180802015