Bika Ambon Durian Mini is one of modified version of Indonesia's celebrated cake. You shouldn't miss this delicacy!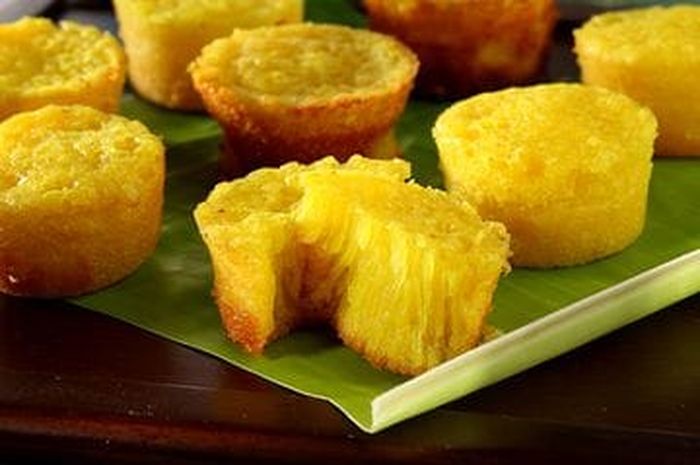 Ultimate delicacy of Indonesia's renowned cake Bika Ambon Durian Mini
Kitchenesia.com – Bika Ambon Durian Mini (Mini Indonesian Honeycomb Cake with Durian Flavor) will make a tantalizing cake with its superflous delicacy. Its sweetness will crack open your day with merry. You won't regret for trying it. It is not only alluring for the look of it, but also the taste of tender texture of the cake with durian flavor that is simply heavenly.
Duration : 180 minutes
Yields : 34 pieces
Ingredients
350 ml of coconut milk from 1 whole coconut
100 gram durian, make puree
1/2 teaspoon of turmeric powder
2 pieces of orange leaf, remove the bones
3 pandan leaves
2 teaspoons of salt
400 grams of granulated sugar
240 grams of sago flour
25 grams of glutinous rice flour
7 eggs
1/8 teaspoon of durian essence
Ingredients for sponge:
100 grams of medium protein flour
130 ml of mineral water
1 packet of instant yeast
Cooking Steps
1. Sponge steps: stir evenly flour, milk. Let stand 15 minutes.
2. Material II, boiled coconut milk, durian, turmeric powder, orange leaves, pandan leaves, salt, and sugar. Stir until it boils. Filter it. Measure 500 ml.
3. Stir in the sago flour, sticky rice flour, and heat until blended. Add eggs one by one while stirring it slowly.
4. Add warm coconut milk stew little by little while beating gently with a mixer. Add durian essence. Stir well. Let stand 2 hours.
5. Pour into a small muffin that has been heated in an oven temperature of 200 Celsius for 20 minutes on a baking sheet until it is fully cooked.
PROMOTED CONTENT
Tags