Let's learn how to cook this simple but healthy dish, Sate Jamur Bumbu Rujak. Its delicacy awaits you!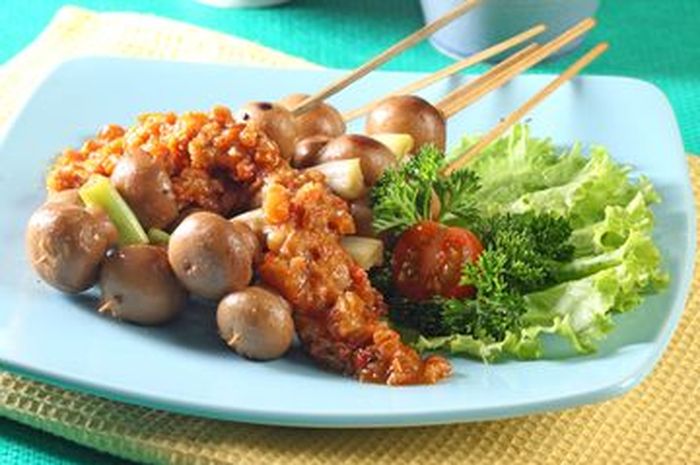 Healthy and tasty Sate Jamur Bumbu Rujak
Kitchenesia.com - Prior to your supper, having a light bite of Sate Jamur Sambal Rujak won't ruin your diet. This low calory delicacy, if anything, will help you to be more conscious with your supper dishes as it prevents you from voracious eating. Bouncy texture with fiber flair of button mushrooms covers with peanuts sauce are decent mix in its entirety.
Let's try it out!
Duration : 45 minutes
Yields : 16 pieces
Ingredients
300 grams of button mushrooms
6 leeks, cut into 2 cm each
2 teaspoons sweet soy sauce
1/2 teaspoon salty soy sauce
1/4 teaspoon of garlic powder
1/2 teaspoon salt
1/4 teaspoon ground pepper
1/2 teaspoon granulated sugar
2 tablespoons of margarine, fry
1 tomato
5 cloves of garlics
3 teaspoons brown sugar
1 teaspoon of salt
150 ml of mineral water
1 tablespoon of oil for sauteing
16 pieces of skewers
Cooking Steps
1. Peanut sauce steps: fry tomatoes and garlics until wilted. Puree cayenne, red chili, tomato and garlic altogether. Stir-fry the ground spices until fragrant. Add peanuts, brown sugar, salt, soy sauce, and water and cook until it is getting thicker.
2. Soak mushrooms in sweet soy sauce, salty soy sauce, garlic powder, salt, pepper powder, and sugar. Set it aside for 10 minutes.
3. Snap mushrooms alternately with chives on a skewer. Spread with melted margarine.
4. Roast them until cooked while applying the remaining seasoning.
5. Serve mushroom satay with peanut sauce.
PROMOTED CONTENT
Tags