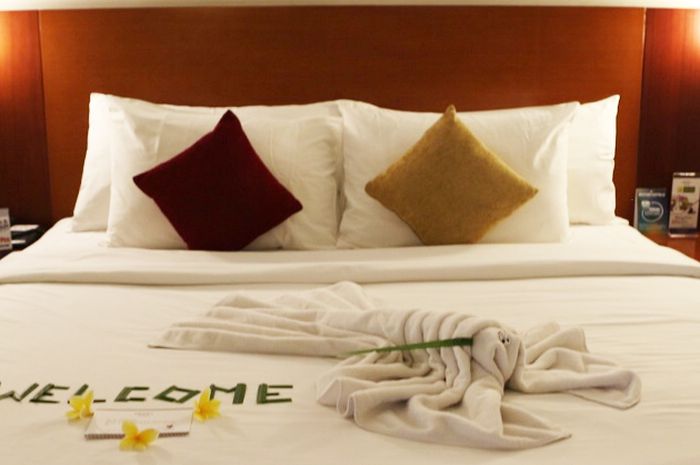 Perhaps the only ornament in this room is lobster-shaped sheet. Executive room of Mercure Hotel Jakarta Kota
Kitchenesia stayed at the historic Mercure Hotel Jakarta Kota, and we found a peculiar comfort in the middle of old-fashioned ambience.
Kitchenesia.com - Contrary to any old town around the world, Kota Tua in West Jakarta is flocked by poorly-maintained, centuries-old buildings that ironically are still settled by locals. Perhaps it defines the beauty of Kota Tua, and a main reason why this region never fails to attract tourists.
The high streets route to Kota Tua, consisting of Gajah Mada and Hayam Wuruk streets, are once a pirate-DVD heaven. However, the criminal-oriented businesses was finally eradicated a couple years ago. Kota Tua and its surroundings are now reinvented into an old Chinese and Dutch cultural hub.
Therefore, lodging properties started to flood in stretched of cheap hostel for backpackers to five-star hotel for wealthy tourists or staycationers.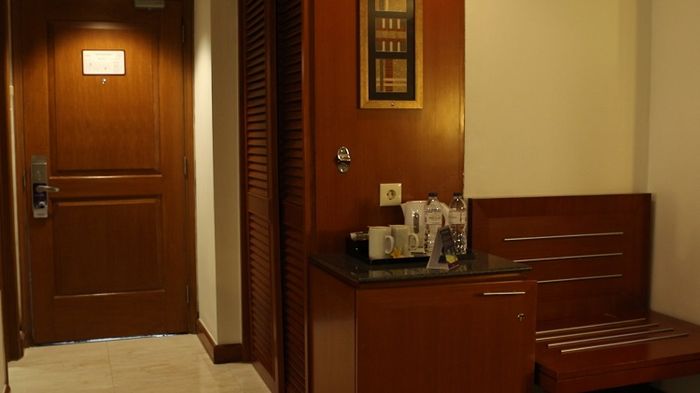 Executive Room of Mercure Hotel Jakarta Kota boosts muted color scheme: from cream wall to cinnamon furniture.
Despite over-saturated lodging establishments in Kota Tua, the oldest among them is still standing strongly. It is Mercure Hotel Jakarta Kota, the first Mercure hotel run in Indonesia and built more than two decades ago.
You might think 23-year-old hotel is not that special. Its building, however, ages more than a half of century. Mercure Hotel Jakarta Kota was preceded by Hotel Chiao Tung that established in 1950. Some parts of the Chiao Tung Hotel are preserved until today, one of which is the lobby ceiling.
Thus, it is not an exaggerated to say Mercure Hotel Jakarta Kota is part of cultural heritage.
Old-Fashioned in a Good Way
Situated on Hayam Wuruk Street, Mercure Hotel Jakarta Kota boosts strategic location. Heritage-enthusiasts can explore to historical landmarks like National Monument (Monas) and Fatahilah museum. The hotel is also surrounded by culinary havens such as Mangga Besar street food and Pecenongan by only 10 minutes walking.
The front facade gives me a stuffy and old-fashioned impression; it looks like a plain white medium-tall building. But the lobby is not at all stuffy - relaxed and friendly - but is certainly old-fashioned. I suggest checking-in on time if you don't want to stand while waiting. There are only few seats in the lobby.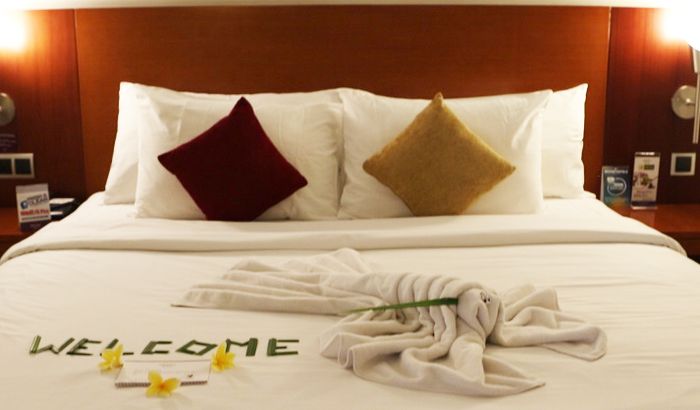 Perhaps the only ornament in this room is lobster-shaped sheet. Executive room of Mercure Hotel Jakarta Kota
The old-fashioned atmosphere (or classic, I guess?) extends to the room design. No certain design flourishes here: no artwork, ornament, or decoration. The executive room, in restful shades of pale cream with greyish accents, is furnished with a mix of cinnamon-shades furniture and chairs.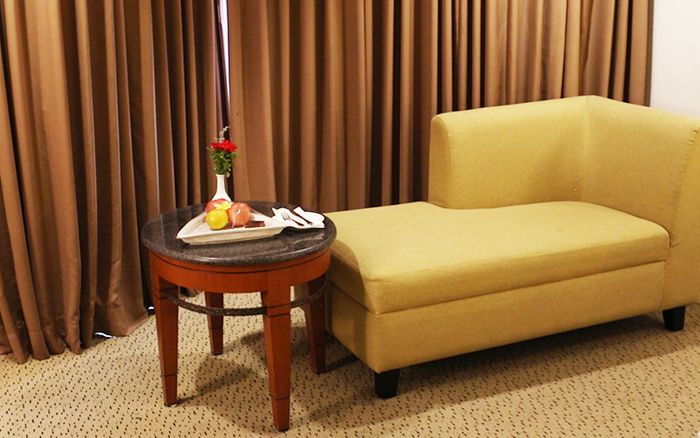 Excutive room at Mercure Hotel Jakarta Kota is equipped with big windows for maximum comfort.
Utilizing 56 M2 space, the room is unnecessarily spacious. It requires you to put more energy to grab remote TV, or just to go to bathroom. Definitely a no for a sluggish guest who prefer compact room. But if you seek for peacefulness, this room is appropriately fitting.
Classic yet Simple, Modest yet Luxurious
Perhaps the best part which everyone will recognize is the LED TV. I'm not talking about disfuntional small-sized TV; I'm talking about 55" LED TV with many channel options. The bathroom is pretty traditional, but the white sleek bathtub delivers maximum comfort to my bath ritual.
Executive Room is also equipped with dining table overlooking city view through big window. Also, thanks to this window, anyone can get a perfect lighting for perfect photograph.
All room types at Mercure Jakarta Kota are equipped with bathtub.
It is stylish in modest yet luxurious way - sleek, cluster-free, with muted color schemes. Boosting full-package amenities and comfortable room, Mercure Jakarta Kota seemingly wants to make guesst stay all day. But hey, who want to go outside if everything is available already right inside the room?