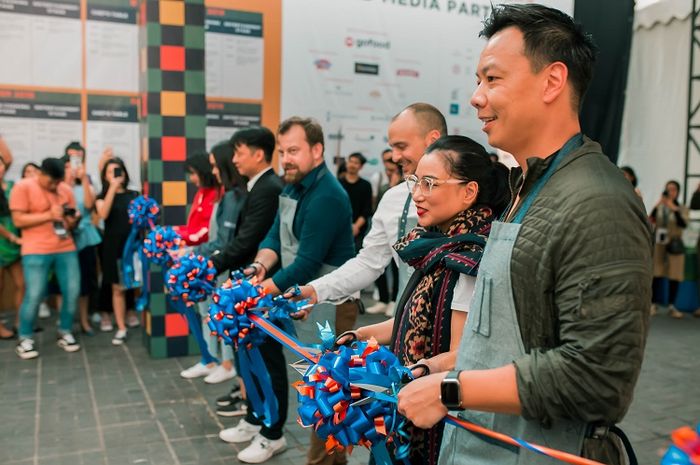 The Grand Opening of Jakarta Culinary Feastival 2019
Kitchenesia.com - Ismaya Live, an event organizer part of Ismaya, cooperated with GoFood, has succesfully wrapped up the sixth Jakarta Culinary Feastival (JCF) on October 3-6 at Senayan City Mal, Jakarta.
With In Bloom as this year's theme, JCF 2019 brought current food trend that shaped Indonesia's F&B industry in general.
Through its 4 concepts that encompasses taste, sip, learn, and fun , JCF 2019 offered an absolute food voyage through dozens of popular F&B tenants, as well as various food-related activities that divided in two large event tents: Spoon Tent and Fork Tent, both are located in Senayan City area.
Spoon Tent was the restaurant area to enjoy delicacies from 20 well-known restaurants, that also became GoFood's best-seller merchants. Sweet tooths and coffee aficionados were spoiled at desserts and coffee vendors at Fork Tent.
Not only it offered trendy sweet delicacies, Fork Tent also exhibited high-quality kitchen appliances and eating utensils.
From mixologist, barista, to F&B experts, more than 49 local and iternational culinary stars attended the event 4 days straight.
They shared their expertises in various activities such as cooking demo, coffee demo, kids' cooking class, talkshow, pastry demo, Masterclass, and wine tasting.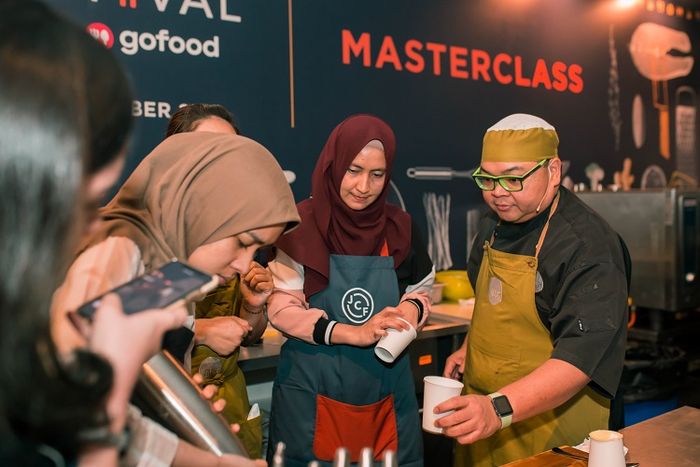 Live Cooking Class with Chef Ragil at Jakarta Culinary Feastival 2019
"At JCF 2019, foodies and food experts interacted to each other seamlessly through many activities that lasted four days straight," said Sarah Deshita as the Brand Manager of Ismaya Live.
JCF 2019 saw the presence of four Michelin-Star chefs: Juliene Royer from Singapore (No. 1 Asia's 50 Best Restaurants 2019 & No. 18 World's 50 Best Restaurants 2019), Ivan Brehm from Singapore (No. 39 Asia's 50 Best Restaurants 2019), Richie Lin from Taiwan (No. 7 Asia's 50 Best Restaurants) dan Manjunath Mural, head chef of Ismaya's new concept resto Gunpowder Kitchen & Bar.
Besides mural art by Gunpowder Kitchen & Bar, celebrity's restaurants were also seen in the event. There are HuxtaBurger, Melbourne-based restaurant that opened its first pop-up booth in Indonesia.
Mangkok Ku, a collaboration restaurant between MasterChef Indonesia judges Arnold Poernomo and Gibran Rakabuming and Kaesang Pangarep, also opened its pop-up tenant at JCF 2019.
Indonesia's legendary Chef Sisca Soewitomo were seen being a mentor in a live cooking demo at JCF 2019.
Also, the founder of BEAU Vakery, Talita Setyadi, and Jakarta's Best Eats's Chef of The Year awardee Fernando Sindu was also present at the event.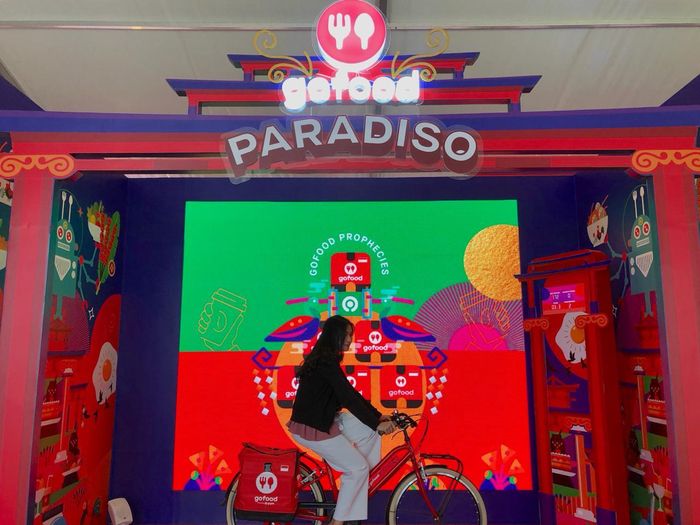 Jakarta Culinary Feastival (JCF) 2019
GoFood presented GoFood Paradiso, an area where foodies stepped into culinary paradise through art installation by GoFood: Journey to the Food Sanctuary, Meatballs Meditation Room, Satay Mystical Trees, Boba Tea Sacred Pool, dan GoFood Prophecies Booth di Fork Tent.
"It is such an honor for us to comeback in this year's JCF. We would like to bring our valuable foodies to take on food journey in GoFood Paradiso, and enjoying their best time through art installation and fun expereinces. Not only a food delivery platform, GoFood has become the most food catalogue that curated 400.000 food merchants across South-East Asia," said Marsela Renata, Senior Marketing Manager GoFood.