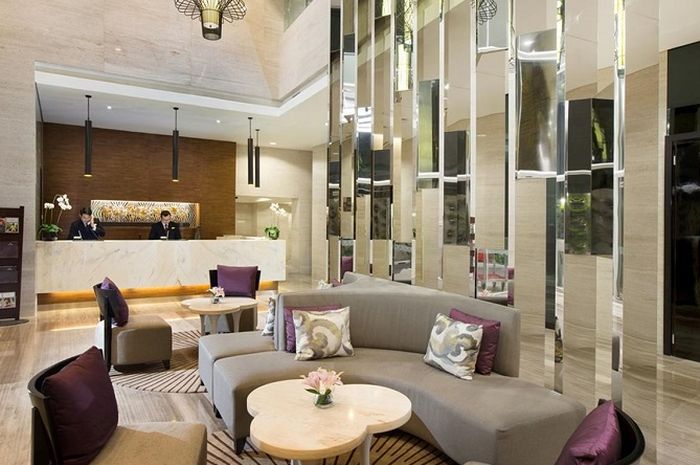 The Lobby of Santika Premiere Hayam Wuruk
Kitchenesia.com - Working a bit too hard and harsh, anyone?
You're not alone.
WTE (a.k.a We The Employees) sometimes have vexed relationships with our career, and we can't seem to let go of them.
But if our jobs must persist, can we agree that the least we can do is free our mind?
Comrades, our lives are dependant on it, but somehow we still deserve a nice weekend.
As a busy Jakartan who longs for spiritual getaway, I am unlikely to be in the need to stay in the middle of noisy metropolitan.
What I do require, however, is a stay in a value-for-money accomodation whose peacefulness causes me to praise the Higher Being.
But I do however insist that the placce is still in the vicinity of my domicile.
Therefore it gladdens my heart that I found Santika Premiere Hotel Hayam Wuruk, a city hotel towering in the middle of Chinatown, business district, and shopping center in the downtown Jakarta.
Unveiled in 2015, the four-star hotel has been a dependable bolthole, with many tourists heading straight to it instead of other nearby hotels.
It is given a tradional-meets-modern aesthetic lobby – but still off-beat.
There are sentimental personal effects (a fancy Ondel-Ondel welcome drink and personal helper), also Batik-pattern metal decoration, light fittings, and an futuristic partition, all hung like works of art.
Owned by one of the prominent hospitality company the Santika Indonesia, Santika Premiere is also a wedding/conference venue; one where many non-staying guests might crowd the elevators and lobby. That being said, do not book here expecting boutique experiences.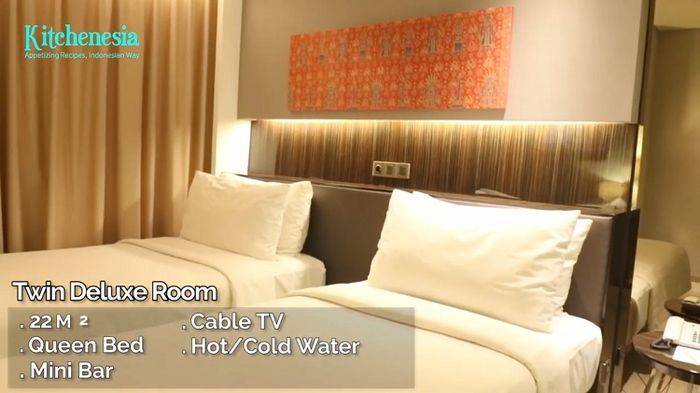 Deluxe Room of Santika Premiere Hayam Wuruk
However, despite its slightly corporate edge, the 4-year-old hotel has been executed with a winning, elegant restraint.
The Deluxe room (or the standard class room in this hotel) makes good use of 22-metre-square width: twin queen beds, ergonomic cable TV, and mini bar.
Huge windows views across Glodok district to local area (the noise does not intrude), Monas, and beyond.
A few flashier decoration details (khaki-colored walls, chandeliers, hand-painted artwork), are kept judicious minimum.
Decoration and ornaments fit the modern-minimalist design, but still extravagant and mature.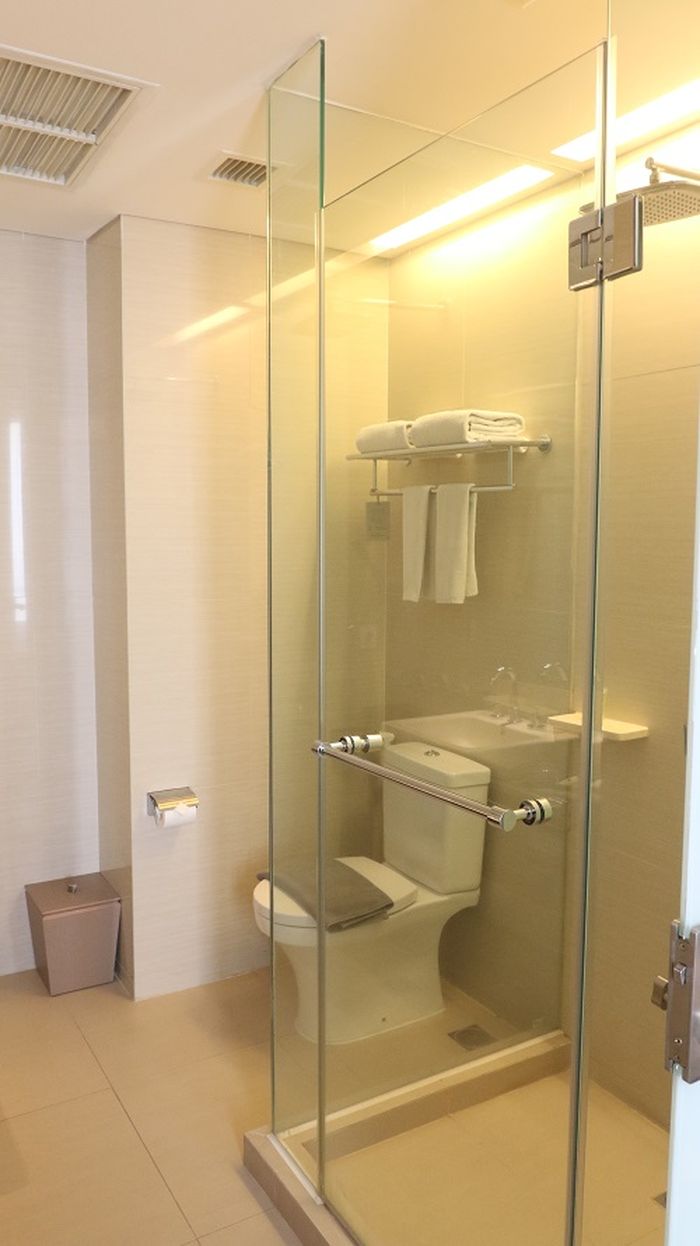 Bathroom of Santika Premiere Hayam Wuruk
The much-vaunted luxuriousness extend to every detail makes my sleep experiences more hassle-free.
For instance, the spacious bathroom has seamless sliding door.
Some may find it vulgar, but watching the large LCD TV while pampering my body is my kind of luxury.
You can then secrete yourself in the two available restaurants – 22 Sky Longue would be my preference – an undeniably cosy refuge in the 22nd floor of the hotel.
Note: the main wedding and coference room are secluded, so the hotel and its 217 bedrooms remain relatively peaceful.
All room reservations in Santika Premiere include breakfast which is as impressive as the bedrooms.
As a weekend getaway, and particularly 65 USD for hi-spec bedrooms with great hospitality, Santika Premiere is an obvious gem.
So when in the need to get away from those boring Excel office weekly reports, enjoy!