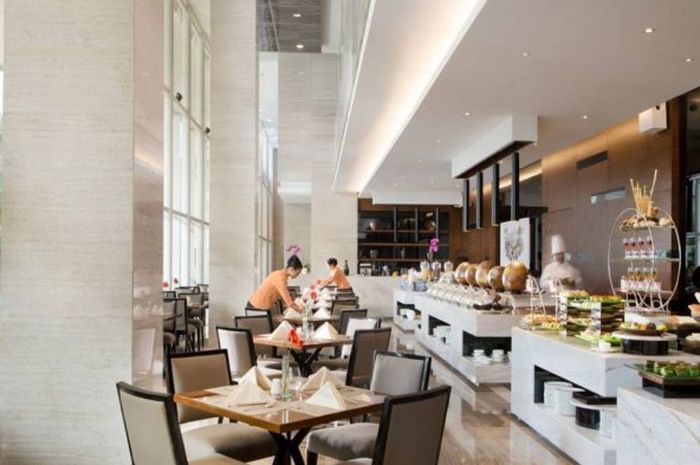 Kicir-Kicir Restaurant
Kitchenesia.com - There is always a fine line between "Western food" and "Indonesian food".
From plating, method, to flavors, no aspect seems to unite them.
Especially in local hotel, Western and Indonesian food are always separated in two different restaurants.
However, at Kicir-Kicir, a buffet restaurant in Santika Premiere, it walks both sides of that line.
If you want from a restaurant an array of dish choices which encompass food and beverages from around the world, Kicir-Kicir is for you.
But if you want relaxing dinner and good view, this restaurant might say otherwise.
Kicir-Kicir unveiled restaurant extension that runs half of the facade of the ground floor, with full view of big glass walls that add a sense of modernism.
It is located near main entrance and lobby, so be prepared for a little bit of unwanted noises like car honks.
But I guess if you stay long enough in Jakarta, you'll learn to live with it and even long for it.
Although they sound subtly vague, those sounds are pretty much hindering me from enjoying the evocative food (yes, the food served here is that great).
My table overlooked the mini empty space that overlooked Hayam Wuruk street, affording myself with a glimpse of the locals' activities in the chinatown area.
After all, having the main restaurant near lobby is not that disavantagous.
Inside, there's not a wicker or traditional ornament in sight.
Instead, the dining room has the carefully neutral glamour of a high-end hotel restaurant – though, unlike any hotel restaurant ever, it's quite crowded, especially on breakfast time.
Kicir-Kicir offers an array of dishes ranging from pastry, canepè, main courses, salad, and several beveragess from across the globe.
Everything is served in a all-you-can-eat buffet.
Also, eating experience becomes more hassle-free with free breakfast for every room type.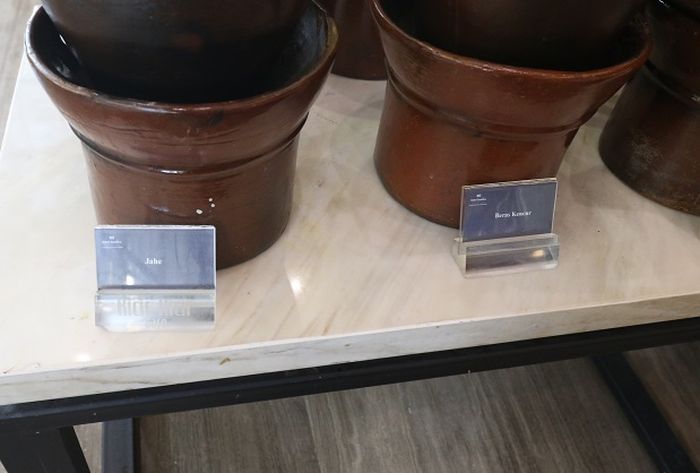 Two Jameu drinks are served on Kicir-Kicir Restaurant, Santika Premiere Hayam Wuruk
The beverage list is pleasingly ambitious: mineral water, juices, milk, infused water, and jamu (traditional herbal drink).
But to be honest, I'm not sure whether the jamu here serves what it is meant to be because no one seemsed to approach this section, as if it were unwanted.
I felt duty bound to order Kicir-Kicir's signature Soto Tangkar, Ayam Serundeng (fried rice with grated coconut), and spicy sambal.
While it becomes a rare food todays, Soto Tangkar is a celebrated food with history.
Low-level workers during Dutch colonialism cooked Soto Tangkar from organ meats and short rib, while the best parts went to the boss.
As colonialism ended and people got more prosperous, the authentic Soto Tangkar becomes rare.
Santika Premiere, through its main restaurant, promises an authentic Soto Tangkar in all-day menu.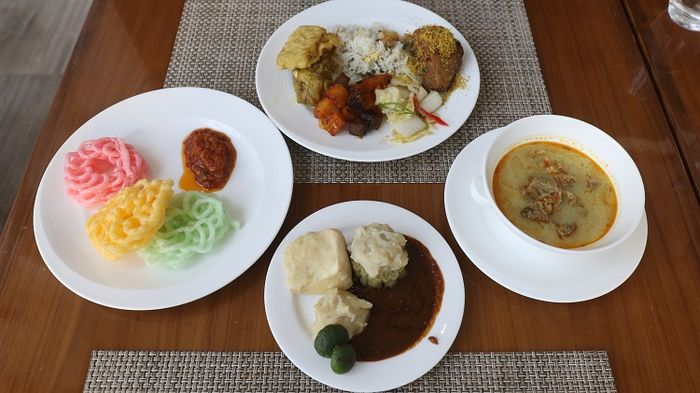 Nasi Rames, Soto Tangkar, Siomay, and rainbow crackers served at Kicir-Kicir Restaurant, Santika Premiere Hayam Wuruk
It is a thick still-warm stock topped with slices of ribs which is also just as warm.
The beef slices languidly fixed between solid and soft, overlaid with shavings of scallion and fried potato.
The cosy softness of beef is punctuated by sweet-to-savory stock.
Kicir-Kicir's Soto Tangkar is a food that deceives you.
It looks so simple; more like a food made by a street vendor rather than four-star hotel chef.
But I suspect if you immerse in it more, it would be a massive joy.
Ayam Serundeng (fried rice with fried grated coconut) is briny not snappy, and it is packed with fried grated coconut comes packed with discernible flavor.
Both, however, are preferable to be eaten with white rice to suppress the saltiness.
The juicy chicken meat is compatible with much-to-my-surprise the refreshing spicy sambal.
According to the on-duty chef, every sambal served in Kicir-Kicir is hand-grinded with traditional mortar and pestle.
No wonder, the elegant spicy-sweet-sour taste feels homemade.
I asked my partner the photographer what he enjoyed the most.
He scanned the table in confusion before settling on the only empty dish in sight: "The Sambal".